General Motors and IBM have announced a partnership to bring the power of OnStar and IBM Watson together to create OnStar Go – the auto industry's first cognitive mobility platform.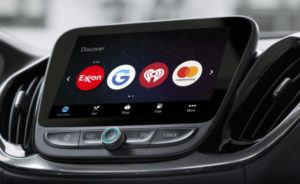 Starting in early 2017, OnStar is expected to give millions of GM drivers the ability to connect and interact with their favourite brands. The platform will deliver personalised content through the dashboard and other digital channels supported by the OnStar Go ecosystem to make the most of time spent in the car.
Combining OnStar's vehicle connectivity and data capabilities with IBM Watson APIs will create experiences that allow drivers and passengers to achieve greater levels of efficiency and safety. These experiences could include avoiding traffic when you're low on fuel, then activating a fuel pump and paying from the dashboard; ordering a cup of coffee on the go; or getting news and in-vehicle entertainment tailored to your personality and location in real time.
The announcement was made during Ginni Rometty's keynote appearance at the World of Watson conference, where Mary Barra, CEO, General Motors, joined Rometty on stage.
Barra began by asking the audience how many people had at some point left their smartphone at home, and consequently driven home to retrieve it.
"Smartphones are such an inaugural part of our lives; we rely on them to stay connected throughout the day. Imagine having the same level of connectivity from that device but from your vehicle," she said. "On average, people in the U.S. spend more than 46 minutes per day in their car and are looking for ways to optimise their time, so just imagine if you could utilise those 46 minutes in a safe but productive way whilst in your vehicle."
Rometty and Barra then both touched upon the safety of this concept – something that is obviously of the upmost importance when driving a car.
"I'm a big believer in 'just because you can, doesn't mean you should' – and I think that could be seen as applicable in this situation. But the OnStar Go platform is a very safe solution that makes our customer's mobility experience more valuable and productive," said Barra.
The GM/IBM partnership will expand the existing OnStar AtYourService offers and deals platform by launching new capabilities supported by OnStar Go with IBM Watson. These capabilities will be available in more than two million 4G LTE connected vehicles and millions of GM vehicle brand app-enabled mobile devices in the U.S. by the end of 2017.
With the customer's consent, Watson will learn the driver's preferences, apply machine learning and sift through data to recognise patterns in their decisions and habits. This information will allow brand and marketing professionals working with IBM and OnStar to deliver location-based interactions that directly impact their target audiences. ExxonMobil, Glympse, iHeartRadio, Mastercard and Parkopedia are the first brands to join the platform.
"IBM and GM are changing the whole notion of where valuable, daily rituals occur.  The combination of IBM Watson and industry-leading OnStar connectivity will enable vehicles with intelligent branded skills and services to empower drivers and passengers," said Paul Papas, Global Leader, IBM iX. "Simply put, OnStar Go with IBM Watson transforms time wasted in the car into time well spent."