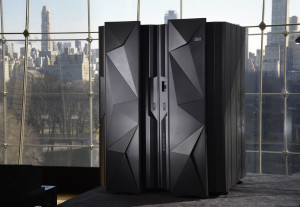 IBM has announced the z13, which delivers scale and economics together with real-time encryption and analytics.
According to the company, it provides new capabilities such as being able to process 2.5 billion transactions a day. It makes practical real-time encryption of all mobile transactions at any scale.
z13 speeds real-time encryption of mobile transactions to help protect the transaction data and ensure response times consistent with a positive customer experience. The system includes 500 new patents including cryptographic encryption technologies that enable more security features for mobile initiated transactions. It is the first mainframe system with embedded analytics providing real-time insights on all transactions, added the company.
The z13 features one of the fastest microprocessor, which is twice faster than the most common server processors, supports 300 percent more memory, 100 percent more bandwidth and vector processing analytics to speed mobile transactions. As a result, the z13 transaction engine is capable of analysing transactions in real time and will be able to help prevent fraud as it is occurring, allowing financial institutions to halt the transaction before the consumer is impacted.