Dubai, UAE, 10th August 2021: ICT Circle – the world's first B2B online platform and first-of-its-kind, that connects the entire ICT industry has cemented its position in the UAE with a huge inventory of stock-keeping units (SKUs) in a niche IT Products category. While this marks a milestone achievement for the company, ICT Circle envisions to expand to GCC and MENA in next 6 months and eventually go global by year 2024.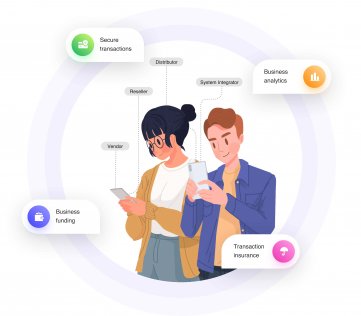 ICT Circle is an e-commerce platform that facilitates the buying and selling of products and solutions within the ICT ecosystem. The platform enables vendors, distributors, resellers, and system integrators in the ICT sector to scale up their business capabilities by utilising cloud computing. The company has captured the interest of a large number of IT distributors (Big & Small) worldwide and with more than 100's of active subscribers using the platform on a daily basis, thus enabling members of the ICT fraternity to connect, network and strike the best deals.
Avinash Wadhwa, Co-Founder and CEO, ICT Circle, commenting on the milestone achievement he said, "We are pleased to achieve this milestone for ICT Circle within this short span. This further bolsters our position, and we are aiming to expand our services in the GCC and MENA region in the coming months. ICT Circle is a marketplace that enables collaboration between all the key players of the Information communication and technologies sector. Its freemium model lets users enlist their business, upload SKUs, search products by category or company, inquire through broadcasts, find buyers and sellers, and compare prices to access the most profitable deals. Being the first-of-its-kind, we are confident that this will serve as a game-changer for the ICT industry".
Frost & Sullivan's recent analysis finds that governments' digital transformation initiatives and enterprises' acceptance of disruptive technologies catalyse the Middle East ICT market growth. As a result, it is expected to reach $95.05 billion by 2025 from $84.23 billion in 2020 at a compound annual growth rate (CAGR) of 2.4%. Rising demand for technologies, including artificial intelligence (AI), machine learning, and internet of things (IoT), are driving market growth.
With the introduction of ICT Circle, industry stakeholders will be able to reduce operational costs as products are made available online, and distributors will get better insights on the latest technologies. The platform facilitates the easy launching and testing of new products while offering verified and secured transactions so that businesses can be conducted with peace of mind. Overall, ICT Circle will provide global exposure and enhanced reach towards potential customers in the industry.
"In today's world, businesses are looking for a robust platform that can give them an edge, where they can standout with the products and services they offer. ICT Circle is that very platform which provides a great venue for exchange of not just products and services but of ideas and experiences. Real-time SKUs, online catalogs, and integration with social media platforms make ICT Circle a unique platform with all the hallmarks of a game-changer for its members", added Wadhwa.
Members who subscribe to the platform will enjoy access to features such as, escrow facility, real-time market analytics, closed partner circle, ad promotions, lead generation assistance, product insurance, logistics assistance, inspection & verification services, access to other partners' SKUs and much more. Easy to use features offered by ICT Circle enable seamless indent sales, procurement, marketing, and training to its subscribers, thus simplifying the day-to-day processes of the ICT community.
To summarise, the platform is an exclusive network of vendors, distributors, system integrators & resellers, that offer its active users in ICT B2B channel space to connect, interact, transact and stay informed on market developments in their respective regions.