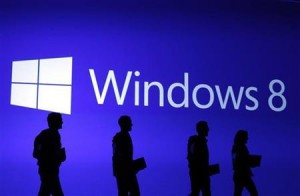 According to IDC, Windows 8 should shoulder part of the blame for a worse-than-expected dip in Q4 PC sales because it failed to spark a surge in PC buying by making completely clear the benefits of the new operating system.
During the fourth quarter of last year, worldwide PC shipments were down 6.4% compared to Q4 2011, the first time in more than five years that such a decline has occurred between back-to-back holiday seasons, according to IDC's most recent Worldwide Quarterly PC Tracker report.
"Although the quarter marked the beginning of a new stage in the PC industry with the launch of Windows 8, its impact did not quickly change recently sluggish PC demand, and the PC market continued to take a back seat to competing devices and sustained economic woes," IDC said in a press release. Those other devices included tablets and ultrabooks.
The actual decline in PC sales was worse than projections of a 4.4% drop, and may have been made more severe by questions about the use of touch in Windows 8 PCs versus in tablets, IDC says.
As a result, the fourth quarter of 2012 marked the first time in more than five years that the PC market has seen a year-on-year decline during the holiday season. Contributing to the problem was marketing emphasis on touch capabilities in Windows 8 that may have overshadowed other important capabilities that might have better boosted sales, IDC says.
"Lost in the shuffle to promote a touch-centric PC, vendors have not forcefully stressed other features that promote a more secure, reliable and efficient user experience," said Jay Chou, a senior IDC research analyst, but that can be fixed going forward. "As Windows 8 matures, and other corresponding variables such as Ultrabook pricing continue to drop, hopefully the PC market can see a reset in both messaging and demand in 2013."
A lack of available hardware customised for Windows 8 contributed to the problem. "Consumers expected all sorts of cool PCs with tablet and touch capabilities," said David Daoud, an IDC research director. "Instead, they mostly saw traditional PCs that feature a new OS optimised for touch and tablet with applications and hardware that are not yet able to fully utilise these capabilities."