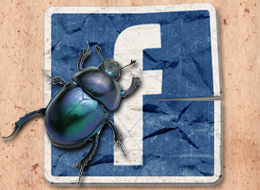 A programming bug on Facebook's website may have accidentally given advertisers and others access to a treasure trove of personal information, according to security researchers at Symantec.
The company posted details of the issue yesterday, saying it may have affected nearly 100,000 Facebook applications for years now.
According to Symantec, certain Facebook applications have been inadvertently handing advertisers access tokens — strings of numbers and letters that can be used by a browser to access Facebook accounts over the Web. "Access tokens are like the 'spare keys' granted by you to the Facebook applications," Symantec said. "Each token or 'spare key' is associated with a select set of permissions, like reading your wall, accessing your friend's profile, posting to your wall, etc."
Users habitually grant this type of access to Facebook applications so they can do things such as write on profile walls, but by handing over these tokens to others, application developers were accidentally giving advertisers or online analytics companies a way to get at this information too.
"We estimate that over the years, hundreds of thousands of applications may have inadvertently leaked millions of tokens to third parties," Symantec said.
Facebook opened up its social network to third-party Web developers in 2007, and they've become key to the site's phenomenal success. But security experts have said that users should be careful to only authorize Facebook apps that they really want to use.
Symantec said it's not clear whether anyone realised that this problem existed, so it's possible that nobody has taken advantage of the bug to snoop on users. "Facebook has now fixed the problem, but it could still be a big problem for users," according to Symantec. That's because these tokens may still be in circulation, stored in server log files or in other places on the Web.
One of these access tokens will keep working until the Facebook user changes his password, so Symantec said that concerned users should change their Facebook passwords, like "changing the lock" on their Facebook account. "The issue doesn't affect Facebook applications that use the newer OAUTH2.0 authentication system," Symantec said.