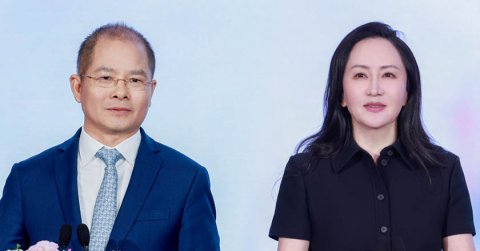 Huawei released its 2022 Annual Report today. The company reports steady operations throughout 2022, having generated USD92.37 billion in revenue and USD5.12 billion in net profits. Huawei continues to strengthen investment in R&D, with an annual expenditure of USD23.22 billion in 2022, representing 25.1% of the company's annual revenue and bringing its total R&D expenditure over the past 10 years to more than USD 140.55 billion.
In face of the on-going challenges, Huawei places technological innovation and research at the top of its agenda. Every year, Huawei invests over 10% of its sales revenue into R&D. The company ranked fourth on the EU Industrial R&D Investment Scoreboard. Huawei executives has always said: "Heavy investment into R&D and innovation has and will remain a long-term strategy of Huawei, committed to open research and innovation".
In 2022, the company R&D expenses hit a 10-year high – in terms of both amount and percentage of revenue. As of December 31, 2022, 114,000 employees, representing 55.4% of Huawei's total workforce, worked in R&D.
Huawei's ongoing innovation in ICT standards over the past 20 years has led to many high-value technologies and patent portfolios in domains like 5G, Wi-Fi, and audio/video codecs. Huawei is also researching next-gen standards like 6G, Wi-Fi 7, and AI-enabled video coding. Through long-term investment and research, as well as extensive collaboration with the global industry, the company aims to make more technological breakthroughs, drive next-gen applications, take the mobile communications industry to the next level, and ultimately, make greater contributions to social progress.
Huawei is an industry leader in patents in multiple mainstream standards fields, including mobile communications, short-distance communications, and video codecs. Hundreds of companies have already signed agreements or set up patent pools with Huawei to use its patented technologies. In 2022, more than 20 vendors from sectors like smartphone, connected vehicle, network, and IoT obtained licenses to use Huawei patents. Huawei says that its ongoing, future-oriented R&D investment helped safeguard its global business, and allowed company to receive reasonable returns through patent licensing.
On March 16, 2022, Ren Zhengfei, CEO and board member of Huawei said: "We should keep our IP protection strategies up-to-date, explore viable models for licensing our technologies to other manufacturers, and promote the application of our technologies in the industry. This will help improve the competitiveness of our industry as a whole and unleash the commercial value of our technologies".
By the end of 2022, Huawei held a total of 120,000+ active patents.
"In 2022, a challenging external environment and non-market factors continued to take a toll on Huawei's operations", said Eric Xu, Huawei's Rotating Chairman, at the company's annual report press conference. "In the midst of this storm, we kept racing ahead, doing everything in our power to maintain business continuity and serve our customers. We also went to great lengths to grow the harvest – generating a steady stream of revenue to sustain our survival and lay the groundwork for future development".
Also present at the event was Sabrina Meng, Huawei's CFO. She noted, "Despite substantial pressure in 2022, our overall business results were in line with forecast. At the end of 2022, our liability ratio was 58.9% and our net cash balance was USD25.35 billion. In addition, our balance of total assets reached one trillion yuan, largely composed of current assets such as cash, short-term investments, and operating assets. Our financial position remains solid, with strong resilience and flexibility. In 2022, our total R&D spend was CNY23.22 billion, representing 25.1% of our total revenue – among the highest in Huawei's history. In times of pressure, we press on – with confidence".
In 2022, revenue from Huawei's carrier, enterprise, and consumer businesses was USD40.84 billion, USD19.15 billion, and USD30.84 billion, respectively.
Huawei is a strong proponent of growing together with its ecosystem partners, and believes that openness and collaboration lead to shared success. The company has continued to open up its platform capabilities across its HarmonyOS, Kunpeng, Ascend, and cloud portfolio, focusing on improving developer experience as well as enabling and supporting its ecosystem partners on all fronts. Huawei currently works with more than nine million developers and over 40,000 ecosystem partners to fuel ecosystem-based innovation and create greater value for its customers.
"2023 will be crucial to Huawei's sustainable survival and development", Xu noted. "Plum blossoms tend to grow sweeter from a harsh winter's freeze. Today, Huawei is like a plum blossom. While it's true that we have considerable pressure ahead of us, we have what it takes to come out the other end – with opportunities to grow, a resilient business portfolio, a unique competitive edge, the enduring trust of our customers and partners, and the courage to invest heavily in R&D. We are confident in our ability to rise above any challenge that comes our way, laying a solid foundation for sustainable survival and development".
All financial statements in the 2022 Annual Report were independently audited by KPMG, an international Big Four accounting firm. To download the 2022 Annual Report, please visit: https://www.huawei.com/en/annual-report/2022
Note: The 2022 closing exchange rate is US$1.00 = CNY6.9533