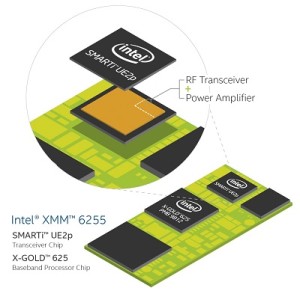 Intel says it is producing a 3G modem, an essential component for Internet of Things (IoT) devices, smaller than anything else produced in the world. 
The real message from delivered by the penny-sized XMM 6255 is that Intel is acting aggressively to boost its ability to compete in the IoT world. Unlike the PC and server market, Intel has been running a catch-up strategy for the mobile market during the past several years.
Intel is building off its 2011 acquisition of Infineon Technologies' AG Wireless Solutions business, part of its efforts to become a bigger presence in the mobile wireless space. Infineon 3G chips and baseband processors are used in smartphones and tablets.
The IoT mobile communications market is not like the smartphone market. LTE access or video-sending capability isn't necessarily needed for devices that may transmit small amounts of data.
A 3G-equipped device can be almost anything, including smoke detectors, door locks or blood pressure monitors, which do not need the full performance of LTE, said Jim Nucci, director of product marketing in Intel's Mobile and Communications group.
Launched Tuesday, the modem is using a module made by Swiss firm u-blox. Intel said it will be adding other module makers.
Originally published on
Computerworld (US)
.
Click here to read the original story.
Reprinted with permission from
IDG.net
. Story copyright 2018 International Data Group. All rights reserved.