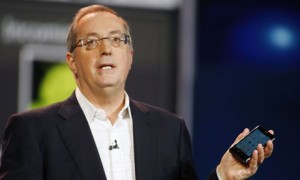 It's been a year since the introduction of the first Intel Inside handset, but the company's struggles to break into the smartphone market continue as rivals Nvidia and Qualcomm improved speed and power efficiency of ARM chips, which dominate that market.
Intel at the International CES show this week unveiled a new reference design based on its Atom Z2420 chip for low-priced smartphones. Companies including Acer, Lava International and Safaricom will support the chip, which is a slower variant of the original Medfield chip introduced last year. Lenovo also announced the IdeaPhone K900 smartphone, which has a 5.5-inch screen and runs on the dual-core Atom Z2580 chip code-named Clover Trail+, which is built on the same chip platform used for Medfield.
While Intel's smartphone chip improvements were incremental, its rivals announced new chips that are faster and more power efficient. Nvidia announced the Tegra 4 chip, which is based on ARM's latest Cortex-A15 processor core, and also announced it would introduce a chip with an integrated LTE modem, although the company declined to comment on when the chips will become available in products. Qualcomm announced new smartphone chips, including the Snapdragon 800, which is up to 75 percent faster than existing Snapdragon S4 Pro chips.
Intel has been stacking up design wins, but none of its smartphones has been successful. Analysts said Intel has been slow in chip development and modem implementation, which has hampered its chances to succeed in smartphones. By the same token, the company is happy to have the few design wins, which are a sign that the x86 smartphone technology is being accepted.
Right now, Intel's biggest challenge is the lack of an Atom chip with integrated LTE capabilities, said Jack Gold, principal analyst at J. Gold Associates.
"That puts them at a disadvantage in the smartphone market in the U.S. and mature markets where LTE is becoming a check-mark requirement for new devices," Gold said.
Intel's Infineon wireless communications unit is working on a chip that combines an applications processor and LTE modem, but that is a few months away, Gold said. The introduction of that chip could provide a fighting chance for Intel to compete with Qualcomm, which already offers an integrated LTE modem in the Snapdragon S4 chip.
"The reason Intel has won some deals for smartphones in emerging markets is because LTE isn't critical for them. Qualcomm does have an integrated chip it can sell, and is doing so to great success," Gold said.
Qualcomm's S4 chip is used in popular smartphones like the Samsung Galaxy S III.
The real test for Intel will come in about a year, when the company's new chips will offer the same connectivity as its ARM rivals, Gold said.
"That is when we should see Intel Inside phones making it into the market in greater numbers," Gold said.
Intel didn't expect overnight success in smartphones, with ARM being the dominant architecture, said Dean McCarron, principal analyst at Mercury Research.
"My sense is that given where they started from and where they are, it's taken them time to make a product that is sufficiently interesting," McCarron said.
Intel may not have made major chip advancements like Nvidia or Qualcomm, but the company's position is better this year with the customer wins and growing software support, McCarron said. Companies including Motorola and Orange also offer Intel Inside smartphones.
But market share will ultimately matter, so the challenge for Intel will be to unseat the dominant ARM architecture and to get people to migrate from ARM smartphones, which is easier said than done, McCarron said. Chips from Nvidia and Qualcomm are in many smartphones today, with performance and power consumption continuously improving.
Intel has promised to develop smartphone chips at a breakneck speed to catch up with ARM. The company this year is expected to release new 22-nanometer Atom chips for budget and high-end smartphones. The latest ARM chips are made using the 28-nanometer process. Intel has also said it would release smartphone chips made using the 14-nanometer process next year, which could give the company power efficiency and speed advantages over its ARM rivals.