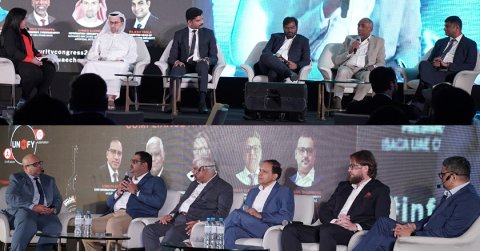 ISACA UAE Chapter & Tahawultech.com, in partnership with the UAE Cybersecurity Council, hosted the first edition of the Infosec & Cybersecurity Congress at the Westin Golf Resort and Spa in Abu Dhabi.
The event highlighted the rapid evolution of the cybersecurity landscape and its increasing complexities that leave organisations vulnerable and exposed to threat actors. It brought together CISOs, IT professionals, security architects, policy makers and other key security officials to debate on the future of IT Information & cybersecurity. Are the current solutions and processes enough? How much security would companies wish to deploy, going forward? What skillsets would security professionals need to have, in order to deal with the most sophisticated threats?
The opening speech was delivered by H.E. Dr. Mohamed Al Kuwaiti, Head of Cyber Security, United Arab Emirates Government. Dr. Alok Tuteja, President, ISACA UAE Chapter, set the tone for the day with his insightful and engaging keynote address.
There were two Panel discussions. The first panel discussion, titled "Next Gen Tech and role of Cyber Security" was moderated by Ms.Anita Joseph, Editor – Reseller Middle East and Security Advisor Middle East and the second panel discussion, titled " Imminent Change in Governance, Compliance and Data Privacy" was moderated by Mr.Kapil Matta, Security Evangelist, Programs Director at ISACA UAE Chapter. The discussions brought together esteemed panellists Jeevan Badigari, Director IT Governance & Security, DAMAC Group, Midhun Kumar, Head – Infrastructure & Cloud Ops, PearlData Direct, part of Lulu Financial Holdings, Patrick Pitchappa, Vice-President, Cybersecurity, First Abu Dhabi Bank, Ahmed AlKindi, Information Security Manager, Mohamed Bin Zayed University of Artificial Intelligence and Rajesh Yadla, Director Head of Information Security, Al Hilal Bank, Srdjan Babic, Experienced Security Professional, Anoop Kumar Paudval, Information Security Manager, Al Nisr Publishing, Somnath Sarkar, Chief Information Security Officer, Mashreq Bank, Dr.Alok Tuteja, President, ISACA UAE Chapter and Vishal Bhawnani, Head – Cybersecurity, Virgin Mobile UAE.
Two fireside chats with industry stalwarts Mark Leveratt, Territory Manager at Esentire and Ahmed Diab, Chief Operating Officer at StarLink, highlighted some of the crucial but often overlooked aspects of cybersecurity.
Kapil Matta, Security Evangelist, Programs Director at ISACA UAE Chapter had to say this about the event "It was indeed a fabulous event with participation from industry experts. Perfect blend of questions and thought ideas from the panellists covering important topics around risk management and cyber security".
The much-awaited CISO Infosec & Cyber Risk Leadership Awards 2023 honoured leading IT & security stalwarts for their contribution to the industry. Following is the list of winners:
Dileep Raj Abdul Razack, Department of Municipalities and Transport.
Ahmed Alkindi, Mohamed bin Zayed University of Artificial Intelligence.
Osama Al Ali, Abu Dhabi Department of Economic Development.
Hany Ali Abusoltan, associated with a UAE government organisation.
Jayesh Nandanan of Mediclinic Middle East.
Hussein Bahgat, Abu Dhabi Islamic Bank.
Mohammed H. AlAbbadi, Fertiglobe.
Mouza AlRomaithi, ADQ.
Vishal Bhawnani, Virgin Mobile UAE.
Parthasarathy Pillairkulam of First Abu Dhabi Bank.
Nitin Shingari from Daman – National Health Insurance Company.