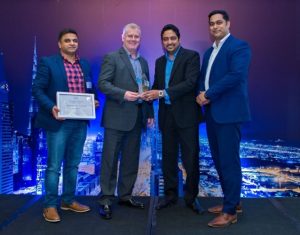 UAE-based consulting firm ISYX Technologies has announced that it has won the 'Emerging Partner of the year' award at Cisco's 2-tier channel event held recently in Dubai. According to the firm, it was recognised for its outstanding performance and expertise in promoting and deploying Cisco's technologies in its first year as the vendor's partner.
Cisco's annual partner awards is a consolidation of the top 2-tier partners who were able to meet both the challenges of reskilling themselves in a short window of opportunity and delivering solutions successfully for their key customers.
"Cisco has been leading the conversation on digital transformation and cybersecurity globally with its thought leadership and innovative solutions. As a trusted advisor, ISYX has been helping organisations transform their businesses by automating their processes and securing their infrastructure with leading-edge technologies from vendors such as Cisco," said Sharoon Shamsuddin, CEO, ISYX Technologies.
The vendor presented awards across 14 categories to its top performing tier-2 partners from the UAE, Oman, Pakistan, Afghanistan and Yemen, which form part of the Cisco Middle East's – East region.
"We are pleased to win the 'Emerging Partner of the year' award, which is an achievement and a significant validation of our customer-centric approach. This award is recognition of our team's capabilities and expertise in delivering end-to-end solutions, which not only help our customers meet their technology infrastructure needs but also deliver on business outcomes in their digitisation journey," he added.
As the 'Advanced Collaboration Architecture Specialised' and 'Advanced Unified Computing Technology Specialised' partner for Cisco in the UAE, ISYX said it helps its customers embark on their digitisation journey by architecting and implementing Cisco's portfolio of solutions including unified communications, conferencing, customer care and collaboration endpoints.