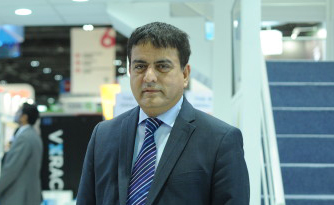 At GITEX, the managed security services provider, ixtel has announced SaaS-based vulnerability management platform in partnership with edgescan, which detects network and application vulnerabilities on an on-going basis. It is unique, being the only hybrid full-stack security solution of its kind in Europe, Middle East and Africa. With over 5,000 assets under vulnerability management, edgescan is a listed "Notable Vendor" in the Gartner Magic Quadrant for Managed Security Services.
Many customers are faced with the reality of having an increasingly high number of systems, both internal and external that need to be regularly tested, it's much too demanding to manage these assessments using consultants or with a desktop scanning tool.
"A hosted approach backed with long experience in the field enables a much wider range of organisations to have access to tools for more consistent management of security and regulatory priorities," said Mehdi Quraishi, Chief Executive Officer, ixtel. "With this SaaS based platform, organisations finally have visibility and accountability into their risk and compliance profiles. This enables organisations to implement enterprise-level security without enterprise-level overheads or costs. This new product eliminates current barriers of managing an on-going and complete risk-based information security program, including the lack of security expertise, resources and tools."
At the show, Ixtel has also announced its partnership with Qumu to bring innovative video solutions to the GCC region.
Qumu offers a secure, flexible and scalable video content management platform that includes advanced video capabilities for enterprises, media companies and public institutions. Qumu's solutions, coupled with the world-class IT services of Ixtel, enable organisations to boost productivity and efficiency by enhancing communication, learning and collaboration.
"Our partnership with Qumu enables us to give our enterprise customers a world-class solution for management and delivery of video content across the organisation," said Quraishi.  "Qumu's platform not only streamlines video content management, but it also ensures that videos are delivered securely and with the highest quality."
"Having a world-class partner like ixtel in the region is critical to meeting the needs of our customers," said Paul Herdman, Qumu VP for EMEA. "Qumu's industry leading video solutions, coupled with ixtel's focus on service, ensure that our customers in the UAE and other Gulf states will be successful in their video implementations."