Jaleel Holdings, a UAE based investment company, has entered into an agreement for managed cloud services with BIOS. The company has interests in multiple sectors, including, education, metal fabrication, logistics, and fast-moving consumer goods.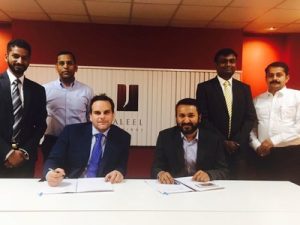 As part of its growth strategy, Jaleel Holdings will connect to CloudHPT across several of its sites in Dubai and Abu Dhabi.
"BIOS is proud to execute the latest technology innovations in the cloud service sector and provide Jaleel Holding with a reliable and constantly developing service that will help them grow across the UAE markets", said Dominic Docherty, Chairman at BIOS.
As the investment company runs 24/7 operations and works with a very large number of transactions each day, downtime and data loss are critical to the continuity of the business. Failing to maintain complete security and peak performance would result in significant reputation and financial losses for the holding.
The locally-based servers of CloudHPT allow BIOS to provide around-the-clock monitoring, analysis, service management and offer a complete availability of hosted applications. Being built on high-performance technology (HPT), CloudHPT uses modern innovations in the industry including VMware and Cisco's application-centric infrastructure (ACI), to deliver an advanced cloud platform in the Middle East region.
The innovative total availability protection suite service (TAPS) by BIOS provides production hosting in Dubai with disaster recovery services to Abu Dhabi while protecting the business continuity of the holding. Part of the agreement between BIOS and Jaleel Holdings also includes the hosting of SAP HANA, Nav, iRetail, and other critical business applications.
"We're looking forward to growing profitability and reaching peak performance with the help of the managed cloud services by BIOS. We believe cloud services are the future of IT-driven businesses and we're excited to implement the innovations of cloud computing into our daily operations to guarantee consistency in growth across multiple markets," said Sameer K. Mohamed, Managing Director at Jaleel Holdings.
"Many organisations are holding back on cloud computing citing security reasons, higher operational cost and local regulatory requirements. But cloud has emerged to solve these challenges, offering companies a more agile infrastructure that enables them to address ever-evolving regulatory requirements, while addressing sophisticated threats with specialised security expertise relentlessly tracking on the threat groups around the world," added Venu Gomathy, Head of IT at Jaleel Holdings. "With a strong team of BIOS, I'm sure my team can now focus on innovative ways to reach and work closely with our customers, on-board them across multiple channels, understand & help them – all in a more secure way."