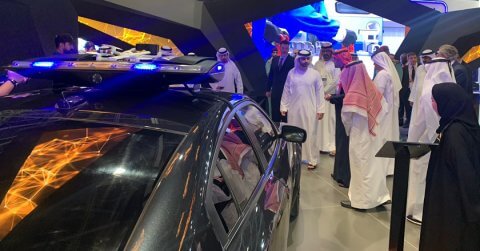 The National Security Services Company "SAFE" announced its strategic partnership of the 24th edition of the Intersec Dubai, which was held in Dubai from January 17–19, 2023, at the Dubai World Trade Center (DWTC), and was inaugurated by His Highness Sheikh Mansoor Bin Mohammed bin Rashid Al Maktoum, Chairman of Dubai Border Security Council.
The event was staged under the theme "Integrated Tech for Global Security: Protection, Disruption, Sustainability".
This edition brought the global security industry together and sped up discussions about strategies and technologies for addressing the difficulties encountered by leaders and experts in global security while fostering cross-border cooperation, trade, and innovation. International SMEs, tech companies, and service providers congregate at Intersec's several country pavilions. The pavilions were used by visitors to look into international solutions, meet potential investors, and locate new agents and distributors.
With that being said, The National Security Services Company "SAFE" spearheading the evolution of the security ecosystem as a strategic security partner and were one of the participants in the cybersecurity exhibition. The National Security Services Company "SAFE" aims and goals are to use a consultative approach, to advance and revolutionize the security services industry while altering customer views and prospective expectations. By providing the top-tier security solutions and fusing cutting-edge technology with the knowledge of renowned and well-trained security personnel.
The National Security Services Company "SAFE" was a support to one of the biggest security presentations gathering in the middle east and took part as an exhibitor displaying security arrangements, counselling and warning alongside office the board with an order and control focus which was associated through Man-made reasoning, facial acknowledgment recognition, and gadgets to perceive and investigate guests' ways of behaving inside the corner. All advances were upheld by 3D measurements and biometrics as the command control centre focus was located in Riyadh to show various demonstrations.
What's more, The National Security Services Company "SAFE "will be hosted a smart vehicle that was installed inside the booth that had shrewd elements introduced coordinating a scope of 360-degree ANPR and surveillance cameras, capturing Face Recognition, ANPR, Make Model Tone and LiDAR Speed Identification into a smooth modern planned lightbar, ruggedised hardened and worked to be mounted on any vehicle. The Zenith intelligent Lightbar enables progressed policing the capacity to convey a full scope of canny logical applications, nearby and far off video reconnaissance ability in the bay.