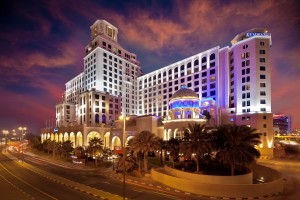 Kempinski Hotel at the Mall of the Emirates in Dubai has partnered with Aruba Networks to provide an upgraded wireless network service to meet the growing demands for secure and high speed wireless internet access by hotel guests.
Aruba Networks has upgraded the legacy service at the luxurious alpine-themed retreat to the latest 802.11n technology to deliver the network requirements of today's business and leisure travellers. Combining comfort with convenience, the upgrade will enable the Kempinski hotel to increase the range of wireless services offered to include features such as IPTV, complimentary internet access in suites and enhanced guest services.
Kempinski Hotel at Mall of the Emirates is one of the group's flagship properties, combining shopping, entertainment and dining options with 5* accommodation, including luxury ski chalets. Aruba Networks' was selected by the Kempinski to ensure that solutions provided incorporated future-proof options for the IT team to not only centrally manage and configure all access points within one location, but also to ensure that IT support at the hotel is equipped to manage both hotel guest and staff demands efficiently.
Prasanna Rupasinghe, Director of Information Technology at Kempinski, said: "The satisfaction of our guests is of the utmost importance and, for many travellers today, that means the ability to securely and reliably connect to personal applications and hotel services through wireless connectivity. With the solution provided by Aruba we can be confident in the speed and reliability of our connection in the hotel, and also introduce new features that make us stand out as a modern luxury retreat."
The partnership adds the Kempinski Hotels group to Aruba's growing portfolio of customers in the Middle East and further demonstrates the company's strength in providing solutions to support global trends towards flexible and mobile internet connectivity at work and in leisure environments. The 802.11n solution installed at Kempinski Mall of the Emirates comprises more than than 400 wall-mounted units of AP93H access points and 40 AP105 to provide reliable wireless connectivity in high traffic areas such as corridors and meeting rooms, as well as Aruba's 6000 Mobility Controller for network scalability, security and access management.
Ammar Enaya, General Manager for Middle East at Aruba Networks, added: "Our work with Kempinski reinforces our expertise in providing network solutions to customers that demand the utmost in reliability, security and scalability across their wireless network infrastructures. Our technology provides the flexibility that Kempinksi needs to make sure that guests have first class internet access in the hotel and IT support teams are equipped to manage the demands on the network from both the company and visitors."