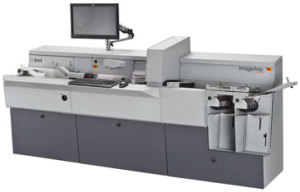 Kodak Alaris has announced that it will be unveiling a range of products and solutions at GITEX Technology Week 2014.   
Kodak Alaris KnowledgeShare – the new framework of hardware and software solutions – enables customers to automatically capture and consolidate corporate data from digital and paper sources.
The IBML ImageTrac 6000 series scanners – which can handle up to 438 pages per minute – will also be released, as will Kodak's Info Input Solution, a browser-based thin client document capture solution for organisations seeking to leverage investments into existing ECM infrastructure.
The export module within the software can import scanned batches and documents to other systems like EMC Captiva, Kofax, and IBM Filenet, and is available in Arabic.
Info Input solution also allows developers to use a SDK to integrate scanning functionality direct into web-based applications such as Sales Force.com, SAP, IBM Filenet and others.
In conjunction with the Info Input launch, Kodak Alaris is announcing a dedicated desktop scanner – the Kodak ScanMate i1180, which can process 40 pages per minute.
Another product will also be featured with Arabic options – the Capture Pro imaging software version 5 – will be shown.
"Information Management is evolving fast," said David Whitton, Regional Sales Director, Middle East and Africa, Kodak Alaris. "Paper is still an issue but it's declining overall as an increasing amount of content is created electronically using a raft of devices. And the ability for organisations to manage this complex information flow, link it into business processes and then make decisions and respond – quickly in real time– is becoming ever more crucial. At GITEX this year, we'll be showing visitors how we address this through our KnowledgeShare initiative."
GITEX attendees can visit stand number Stand B4-3 located in Hall 4 to meet with the Kodak Alaris team.
The Kodak Alaris stand will feature a central knowledge hub with four zones for the finance, healthcare, Business Process Outsourcing and government sectors, and the company will show how its solutions can benefit these sectors.