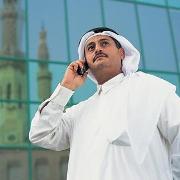 The Arab Advisors Group released the results of its Cellular Competition Intensity Index 2011 this month at the margin of the 8th annual Media and Telecoms Convergence Conference in Amman on June 6 and 7 2011. The index ranks Saudi Arabia as the most competitive Arab cellular market. Jordan came in second, followed by Palestine.
The report entitled "Competition Levels in Arab Cellular Markets" results for April 2011 revealed that Saudi Arabia tops the score –as the most competitive Arab market- with a 76.01% mark followed by Jordan at 75.37% and Palestine at 69.61%.
The UAE's competition index stands at 47.17%, followed by Syria, Libya and Lebanon.
The Cellular Competition Intensity Index is relative in nature as it compares the state of every market relative to other markets. As such, even if a market's absolute level of competition improved, its score in this relative index will also depend on how other markets developed.
The 2011 index results revealed that four countries ranked higher than their May 2010 index ranks, these are: Algeria, Bahrain, Saudi Arabia and Mauritania.
Meanwhile, a total of three countries ranked lower compared to May 2010 index, namely: Jordan, Sudan, and Yemen.
The remaining twelve countries of Egypt, Iraq, Kuwait, Libya, Lebanon, Morocco, Oman, Palestine, Qatar, Syria, Tunisia and UAE maintained their May 2010 ranks.
The Arab Advisors Group devised the Cellular Competition Intensity Index to rate and to examine the intensity level of competition in the Arab World's cellular markets.
The index takes into account the number of operators, packages, and services available in each of the 19 countries covered by the Arab Advisors Group. Each category was assigned a certain weight according to its importance as an indicator of competition.
The Arab Advisors Group's team of analysts in the region has already produced close to 2,500 reports on the Arab World's communications, media and financial markets.