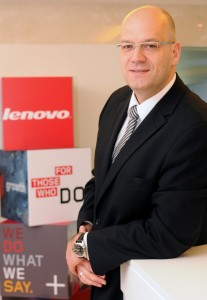 Lenovo announced on Monday that it is now the number-four PC manufacturer in the Middle East and Africa, based on the latest preliminary results from IDC for Q4 2012. The brand has seen year-on-year growth of 36.3%, the report showed.
This put Lenovo into the number-two position for the EMEA market overall, the report said, with the brand enjoying an 11.1% market share.
In the UAE, Lenovo grew its market share to 13.9% – up from 12.2% in the last quarter – and reported a 52.8% year-on-year growth. This makes the brand the number-three PC manufacturer in the country, up from number five in the last quarter.
In Qatar, the brand jumped from number five to number three, with a market share of 13.5% and yearly growth of 43.2%, Lenovo said. In Oman, Lenovo is the number-three PC manufacturer with just under 20% yearly growth.
In Jordan, the brand increased its market share to 18.8%, which is up 6% on the last quarter. This makes Lenovo the number-two player in Jordan, with yearly growth of over 140%. However, this is not as impressive as the results for Lebanon, where Lenovo retained its number-one spot with a 20.5% market share and yearly growth of 180.6%.
In Egypt, Lenovo grew its market share to 14.2%, showing a year-to-year growth of 36.6%. In South Africa, meanwhile, the brand grew its market share to 12.3%.
"Our continued growth in MEA comes as a result of our strong regional operations and commitment to our customers and partners," said Oliver Ebel, Executive Director and General Manager, Lenovo Middle East and Africa. "MEA has become an increasingly strategic region for Lenovo and we are determined to further grow our presence and invest in new growth markets."
The overall numbers for the EMEA region were boosted by successes in Russia, Germany and Denmark, where the brand is also ranked number one. Lenovo saw a year-on-year growth of 41.7%  in the EMEA market, which declined overall by -1.6% during Q4, according to the report.
"In April 2012, we set a clear goal – to become the number-three PC vendor in EMEA and gain more than 10% market share by 2013 – and we have achieved this well in advance of our deadline," said Gianfranco Lanci, EMEA President, Lenovo. "These results have given us a solid foundation from which to work in order to achieve our ultimate goal of becoming number-one in EMEA.