Lenovo has launched the Phab2 Pro "the world's first Tango-enabled smartphone," which is set to be available from 15th of December across all major retailers in the UAE.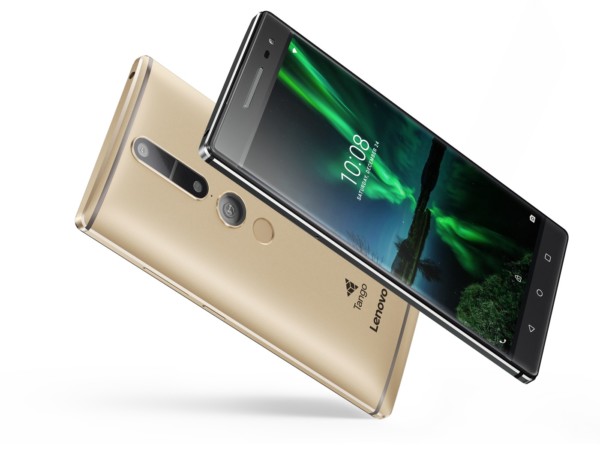 According to Lenovo, the Phab2 Pro allows users to create more experiences by revolutionsing a smartphone that can monitor depth perception, motion tracking, and gauge area learning features. The 6.4-inch smartphone is also equipped with a fast-focusing 16 MP camera and virtual backgrounds.
The Phab2 Pro, powered by Tango technology that senses and maps its surroundings, supports motion tracking, depth perception and area learning features. With motion tracking, the Phab2 Pro's "eye" sees its own location in 3D. Area learning tells the smartphone its location. Depth perception lets the device analyse the shape of the world around it by detecting surfaces and obstacles. And now for the first time ever, a smartphone can visualise and understand its surrounding objects and environment via sensors that capture more than 250,000 measurements a second, changing the way people think about mapping indoor spaces.
The device is powered by the Qualcomm Snapdragon 652 processor, which brings efficient hardware integration and processing, 4G LTE connectivity, and time stamping and camera and sensor processing capabilities.  It also features a Dolby Audio Capture 5.1 with Dolby Atmos playback capabilities. In addition, it also has an intelligent Assertive Display with a pin-sharp QHD (2,560 x 1,440) resolution, capable of optimising image quality based on ambient lighting and content.
The Phab2 Plus comes with two 13MP rear cameras that have instant focus, fast F2.0 lenses and the same professional-grade Futjitsu Milbeaut image signal processor that powers the Leica camera.
Lenovo highlighted that the Phab2 is integrated with a number of AR features, for instance, the device allows you to create more unique photos and videos by superimposing effects such as virtual backgrounds or cartoons onto your pictures – perfect for sharing on Facebook or Instagram. Other highlights include a huge 6.4-inch HD display, complete with a fast-focusing 13MP camera and 32GB onboard storage expandable via a microSD slot.
The Phab2 Pro is priced at AED 1,999, the Phab2 Plus is priced at AED 1,099, and the Phab2 is priced at AED 799.
The Phab2 and Phab2 Pro are available for purchase through all major retailers in the UAE, while the Phab2 Pro will be available starting 15th of December.
Mohammed Hilili, General Manager for Gulf, KSA and East Africa, Lenovo MEA, said, "Two minds are always better than one. When you bring together two companies that share a passion to drive innovation and transform the user experience, the sky is the limit. With the Phab2 Pro we were able to take an innovative concept and convert it into an accessible mobile device for the mainstream consumer. This device truly has the power to change how we interact with our surroundings."