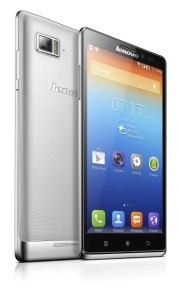 Lenovo last night announced that its first LTE smartphone, the Lenovo Vibe Z, will be available in the UAE end of February at all major retailers.
The smartphone is equipped with gesture controls and photo enhancement software, and is Lenovo's first smartphone that makes use of 4G/LTE capabilities, offering a data download of up to 150 Mbit/s1 and upload at up to 50 Mbit/s.
It also comes with 802.11ac WiFi and Bluetooth 4.0.
"The Lenovo Vibe smartphones are designed to cater to intuitive and trendy users who demand stylish, fast and sleek smartphones to stay connected, share picture perfect photos and enjoy multimedia videos and gaming on full HD screens," said Oliver Ebel, Vice President, Lenovo MEA.
"With the expansion of our Smartphone portfolio, Lenovo continues to diversify its business and build a strong foundation for the future in the PC Plus era. According to IDC Q3FY13, Lenovo, in a short period, has become the world's third largest smartphone supplier, rapidly expanding shipments 78 percent year-over-year. This is a testament to Lenovo's rapid ongoing transformation into a PC Plus company."
The Vibe Z comes encased in a 7.9mm silver or titanium body weighing just 147 grams, and has a 5.5-in full high definition IPS wide angle viewing touchscreen display.
It has a Qualcomm Snapdragon 800 Quad-core 2.2GHz processor, and is loaded with 2 GB of memory, up to 16 GB of internal storage and runs Android 4.3.
The smartphone features a 13 MP rear camera with an f1.8 aperture lens and a 5 MP front camera with an 84° lens for wide-angle shots.
The Vibe Z will be available in the UAE at the end of February at all major retailers, and will cost AED 1999.