Eindhoven, Netherlands, May 4, 2021: Fluke Networks today launched the LinkIQ cable and network tester. It combines switch diagnostics with high-end cable measurement technology to enable installers, systems integrators and network assistance professionals to easily troubleshoot network wiring and/or connect PoE (Power over Ethernet) devices to the network.
The product provides simple success/failure test reports, using the company's innovative PC LinkWare cable test management software.  It can also check the performance of switches, especially PoE.
"New technologies such as Ethernet 10 Gbps and Extended Power Over Ethernet are at the heart of today's networks", said Walter Hock, Fluke's Vice President of Products. "Whether it's an installer who needs to ensure error-free operation and support his work, or a convenience store operating on advanced devices, they both need a tool that supports current advanced technologies, whose ease of use saves time and is offered at a price that promotes its large-scale deployment".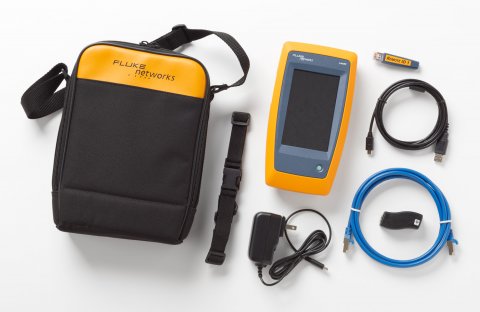 The LinkIQ is based on a single-test approach that automatically provides appropriate measurements for the other end of the cable. If the cable is open, it indicates length and coupling. If completed with the remote control provided, the test result indicates the maximum data rate supported by the cable, up to 10 Gbps. However, if the cable is connected to a switch port, LinkIQ  displays the name of the switch as well as the name of the port, the VLAN, the speed and the duplex mode. If PoE is announced, it displays power and class (up to 90 W or Class 8), then charges the switch to check that power can be provided.
For more information on linkIQ, visit  www.flukenetworks.com/MeetLinkIQ.