Logitech has recently announced CRAFT, the first keyboard with a creative input dial, an addition that Logitech say sets a new standard for computer keyboards.
"Our new flagship Logitech CRAFT keyboard is for all of us who spend time creating using photoshop or building powerpoint slides or want to work with greater precision and feel connected to their work," said Art O'Gnimh, Global Head of Keyboards at Logitech.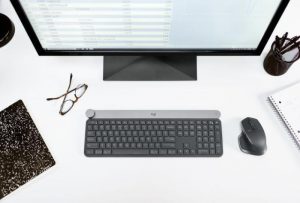 "The creative input dial gives you instant access to the functions you need, the moment you need them, allowing you to increase your productivity. CRAFT puts you in your creative element – every time you sit at your desk."
According to the company, CRAFT looks and feels better than anything you have typed on and offers a whole new way to immediately access context-specific computing tools with a smart aluminium dial.
For example with a touch, tap or turn you can adjust image brightness, contrast and saturation in Adobe Photoshop, or create and adjust charts in Microsoft Excel. Or simply turn the dial to move up and down font sizes in document programs like Microsoft Word. The creative input dial gives you the ultimate control and input at your desk for precision, efficiency and uninterrupted creative flow.
The touch-sensitive aluminium creative input dial, called the Crown, recognises the apps you are using and gives instant access to the tools you need. With a slight touch of the Crown you can instantly access context-specific functions – light brush-size, brightness, chart type and font size – tap to change the function and turn to change the selected functions value.
Installing custom profiles in Logitech Options Software maximises the creative process when working with Adobe Photoshop CC, Adobe Illustrator CC, Adobe Premiere Pro CC, Adobe InDesign CC and Microsoft Powerpoint, Excel and Word. The Crown brings comfort, immediacy and convenience to your creative process and allows for increased two-handed interactions. You can also use the Crown to change desktops, navigate between apps or adjust volume – and assign one additional Crown function in each of your favourite apps.
CRAFT also features smart illumination with backlighting that detects your hands and adjusts lighting automatically depending on room conditions. The keys are crafted for comfort, in a full-size familiar layout, with each individual key engineered for stability and precision. CRAFT looks great alongside other premium desktop accessories by Logitech, such as the Logitech MX Sound, Logitech Spotlight Presentation Remote and Logitech MX Master 2S.
It also features the same Easy-Switch button found on other Logitech keyboards, allowing you to quickly toggle between – and type on – any three connected devices.