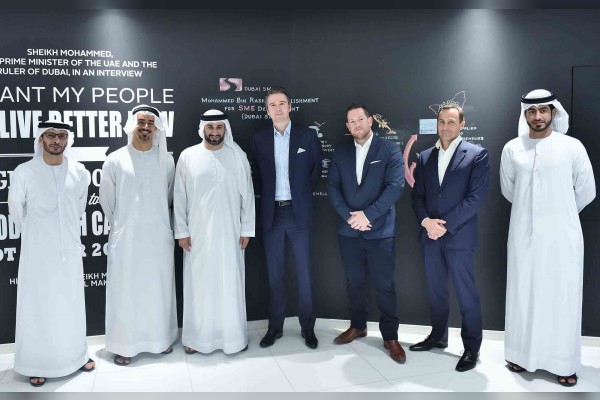 The Mohammed bin Rashid Fund (MBRF) the financial arm of government agency Dubai SME, and peer-to-peer lending platform Beehive have signed an MoU to facilitate SME financing and performance in technology.
The MoU will enable SME owners in Dubai to obtain loans for development and expansion at competitive rates through the Beehive Group Finance Platform.
The agreement provides a credit guarantee of up to AED 500,000 on SME financing for a period up to 36 months with the fund acting as the guarantor.
Abdul Basset Al Janahi, CEO of Dubai SME, and Craig Moore, founder and CEO of Beehive, signed the MoU in the presence of senior executives from both sides.
Al Janahi that said that the MoU underscores Dubai SME's commitment to transforming Dubai into a Smart City. "It's an opportunity for UAE nationals who own SMEs to get accustomed to modern financial technologies, FinTech, and leverage the concepts of crowd funding and peer-to-peer financing without depending on banks or other financial institutions," he said. "Dubai SME continually evaluates the needs of SME owners and investors in the region to ensure that the UAE remains the most attractive destination for investment and enterprise growth. Most recently, we released the 'State of Digital Investment in MENA 2013-2016' report to give an overview of the opportunities in digital entrepreneurship and related innovations. The agreement with Beehive addresses the need for modern SME financing options that can compete with conventional channels and excel in terms of efficiency and cost."
Saeed Matar Al Marri, Deputy CEO of Dubai SME, said that MBRF seeks to promote innovative projects of young people by offering a package of financing solutions tailored to their operational requirements. The ultimate objective is to translate ideas into competitive and sustainable projects and promote an entrepreneurial spirit among UAE nationals. "SMEs will be able to utilise the funds secured to grow and compete with major companies in the domestic market, eventually achieving sustainability and expanding into global markets," he said.
"We're delighted to join forces with Dubai SME," Beehive CEO Moore said. "Peer-to-peer finance is growing rapidly and is estimated to deliver $300 billion globally by 2020. Our partnership will endeavour to provide funding to the pioneering and promising SMEs of the future, which will ultimately help establish Dubai as a world class innovation hub."