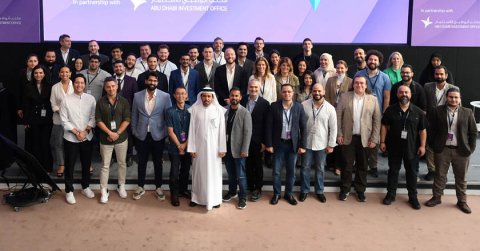 Microsoft for Start-ups Middle East, in partnership with the Abu Dhabi Investment Office (ADIO), today graduated the latest cohort of tech start-ups from its GrowthX Accelerator program. The conclusion of the cohort was celebrated during a Demo Day event, hosted at Abu Dhabi's financial centre, Abu Dhabi Global Market (ADGM), with attendees including start-up founders, government officials, investors, business leaders and stakeholders from the regional entrepreneurship ecosystem.
Run as part of a strategic partnership between ADIO and Microsoft for Startups, GrowthX is specifically designed to empower growth-stage B2B start-ups ranging primarily from Seed to Series A stages to grow and scale in Abu Dhabi. The program features weekly sessions from Microsoft experts, as well as regional and global leaders in business and technology. The 12 start-ups in this cohort hail from across the Middle East, Turkey and Pakistan, and are developing solutions in E-commerce, EdTech, Fintech, HRtech, and Insurtech. The companies in this cohort are Fortyguard, Ilmversity, Klickit, MonSpark, Pisano, Poilabs, Raabtaa, Supercommerce, Vita Virtues, Xina AI, Edraak Systems, and Pay Caps.
Eng. Abdulla Abdul Aziz AlShamsi, Acting Director General at ADIO, said, "The rapid pace of digital transformation is an opportunity to continually find new technological solutions to global challenges. The GrowthX Accelerator is a proven platform to identify and empower innovative start-ups to achieve scale and impact. We congratulate all the graduates on completing this program and look forward to seeing how they leverage the tools gained to accelerate their growth and enhance the regional start-up landscape".
Naim Yazbeck, General Manager, Microsoft UAE, said, "It has been both inspiring and encouraging to witness the growth and development of each of the start-ups enrolled into this cohort. They've leveraged every opportunity to maximise the potential of their offerings, enhance their skillsets and embrace the support and resources available to empower them to grow and scale their businesses. Together with ADIO, we are proud to have empowered another incredible cohort of start-ups to showcase their innovative ideas and develop them into real-world solutions, that will strengthen the regional ecosystem and develop our digital economy".
Investment in tech start-ups across the UAE and the Middle East continues to grow exponentially as demand for new, creative, and innovative products and solutions continues to rise. Over the past year, venture capital funding in MENA reached $2.6 billion, 138% more than in 2020, according to MAGNiTT. Start-ups in the UAE accounted for 26% of all deals closed across MENA and 45% of all funding raised across the region in 2021.
The GrowthX Accelerator helps start-ups develop their offerings and unlock new opportunities for success. The 10-week program offers a variety of group and one-on-one virtual sessions and training on enterprise sales, technical readiness, investor readiness, and customer engagement tactics. Participating start-ups also work closely with Microsoft to co-create technology solutions that address real challenges facing organisations in the region, and receive support from regional partners including legal assistance from Clara.
Following the conclusion of the program, the start-ups will also work closely with Masdar City, a GrowthX program partner, who will support the graduating cohort in obtaining business licences and establish operations in Abu Dhabi. The Masdar City Free Zone hosts more than 1,000 companies that benefit from the city's unique ecosystem of education, R&D, technology start-ups, incubators, and corporates.
Including the recently concluded cohort, the GrowthX Accelerator has graduated a total of 48 start-ups since its inception in 2021. To learn more about the Microsoft for Startups GrowthX Accelerator program, click here.