Microsoft has concluded the first day of its participation at the BETT Middle East, which was held in partnership with the Abu Dhabi Education Council (ADEC).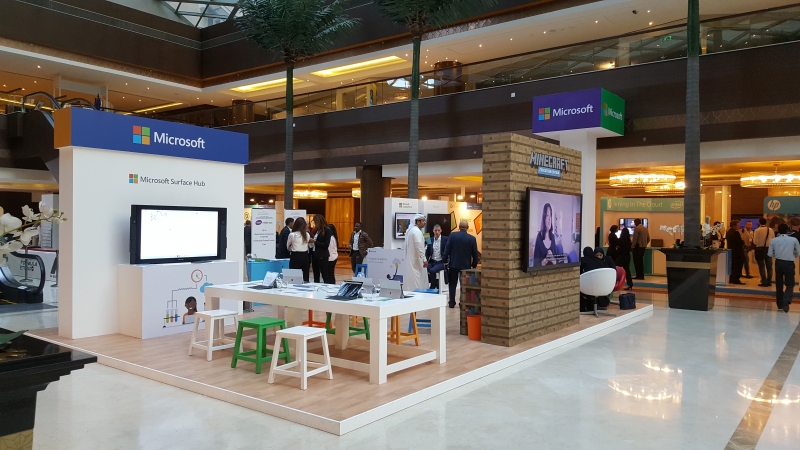 The event held Under the patronage of H.H. Sheikh Hazza bin Zayed Al Nahyan, Vice Chairman of the Abu Dhabi Executive Council, included morning keynote addresses, speeches, and interactive panel discussions comprising of illustrious speakers from around the world, touched on topics including STEM education, change management, educators leveraging social media platforms, the future of higher education, learning environments and teaching in the 21st century.
During the event, currently at the Dusit Thani in Abu Dhabi, Anthony Salcito, vice president, Worldwide Education, Microsoft, delivered a keynote address at BETT Middle East 2017, for the second consecutive year. 'Enabling the digital transformation of education to empower student success' with focus on shifts in the technology job market and how the digital divide can be bridged through immersive learning initiatives.
"Over several decades, Microsoft has worked with institutions and educators around the world, and gained a deep understanding of how technology in schools can transform the learning experience," said Salcito. "We continue to bring our leading-edge products, services and programmes to bear on this challenge, always taking into account that technology is not the lone agent in such transformations, and can even complicate or slow down the process if not implemented with due diligence. We recommend that education leaders take a curriculum-focused approach to technology adoption, keeping in mind their educational goals, and then integrate those technologies that facilitate tangible benefits for students and teachers."
At the event Microsoft also released the findings from a new education survey of nearly 650 educators in the Middle East and Africa. The findings revealed that 89 percent educators said they believe their school leaders have a clear vision of how to use technology for the enhancement of the classroom experience.
However, 52 percent educators surveyed lack proper training to understand and implement the integration of technology (computers, software, online resources) into the way they teach. The study revealed that the biggest factor needed to successfully transform teaching and learning experiences was educator skill sets – in particular, knowing how to make the most of available resources and tools; as a 55 percent majority believe that teachers can lead the digital transformation both inside and outside the classroom.
The company's collaboration with BETT, introduced educators in the Middle East and beyond to generational leaps in classroom-enhancing technologies and methodologies. Delegates be able to attend Microsoft Teacher Development Track, the School Leaders Track or the Education Digital Transformation Track.
In addition to its in-depth tracks, Microsoft also demonstrated its latest solutions and devices to enable digital transformation in classrooms. The company also imparted some of its expertise on device management, covering Windows 10, the Microsoft Educator's Community and Office 365 Education.