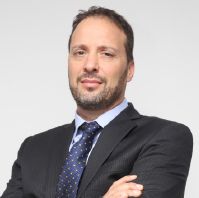 Microsoft is drawing attention to the way its devices and solutions can harness the power of the Internet of things and Big Data.
Michael Mansour, Chief Innovation Officer, Microsoft Gulf, told 60 Minutes how an unprecedented shift in technology is causing the company – and the Middle East – to adapt a range of its strategies.
"Our theme for GITEX, and in terms of the company's ethos at large, is to empower every person and organisation on the planet to do more with technology, and we have brought that experience here to our stand," he said. "We're especially highlighting this with our cloud platform and productivity cloud by talking about personal computing. We have a range of new devices, an IoT experience section and demonstrations, and we look forward to receiving our partners and customers on so that they can have a better appreciation for the Microsoft experience in general."
Mansour added that the trade show's longevity has put cemented it as one of the most powerful vehicles in the Middle East. "We've been coming to GITEX for around 30 years, and for us, the opportunity to show our latest and greatest technology, along with the chance to meet some of the biggest public and private partners is fantastic," he said. "More than that, it's a chance to participate in a very important institution within Dubai. We know it's the biggest technology experience in the Middle East and we're honoured and thrilled to be a part of it."
When asked about his perception of the most important technology trends in the next 18 months, Mansour said, "That's an easy answer. The IoT is especially important. We're seeing an explosion of technology that we hadn't seen before, whether we're talking PC or cloud, the number of IoT devices will outnumber the amount of PCs, phones, tablets and wearables combined by the year 2020. It really is a revolution that's happening in front of us and we're seeing demand on the device side for IoT. We're seeing a demand for harnessing all the new data that's coming in from the power of cloud and analytics.
"I don't think GITEX has changed per se, but I do think that the theme has always resonated with our participants but also evolved on the technology side. GITEX is a hub for many partners of DWTC to showcase their innovations, and we're a big part of that."