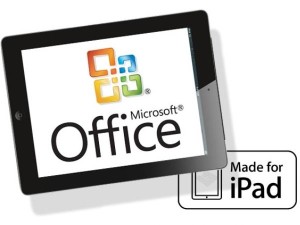 Microsoft has finally released Office for iPad alongside Office Mobile apps for iPhone and Android. 
The individual apps – Word for iPad, PowerPoint for iPad and Excel for iPad – are free to install, but only allow you to read and present documents. If you want to create and edit documents, you'll need an Office 365 subscription.
"Microsoft is focused on delivering the cloud for everyone, on every device. It's a unique approach that centers on people enabling the devices you love, work with the services you love, and in a way that works for IT and developers," said Satya Nadella, Microsoft's new CEO.
You'll need an iPad with iOS 7, so anyone still on iOS 6 will need to upgrade. Anyone with an original iPad is out of luck.
Don't confuse Office for iPad with Office Mobile, which is available on the iPhone and Android smartphones (a tablet version is in the works). This is also free to use if you have iOS 7 or Android 4.0 and up, as long as it's for home use. Office mobile allows you to read, edit and create documents without paying for a subscription.
Business users will need an Office 365 subscription. Described as the 'official Office companion' app, it allows Microsoft Word, Excel and PowerPoint documents to be accessed, viewed and edited.
A home Office 365 subscription, which you'll need to edit or create documents on your iPad, costs £7.99 per month or £79.99 per year.
Microsoft said the Office for iPad apps have been 'built from the ground up' with touch control and the iPad's native functionality in mind. "Documents look like the originals, thanks to support for charts, animations, SmartArt graphics and shapes." said Microsoft.
Microsoft says that Office 365 is the firm's fastest-growing product ever. Its success is down to "the ability to move between devices, share subscription benefits with household members with an Office 365 Home subscription, and have constant access to important Office documents online."