Microsoft has launched a new Middle East and Africa centre of excellence for oil and gas in Dubai, built specifically to assist customers in driving digital transformation, cost cutting and optimisation of their operations across the region and the world.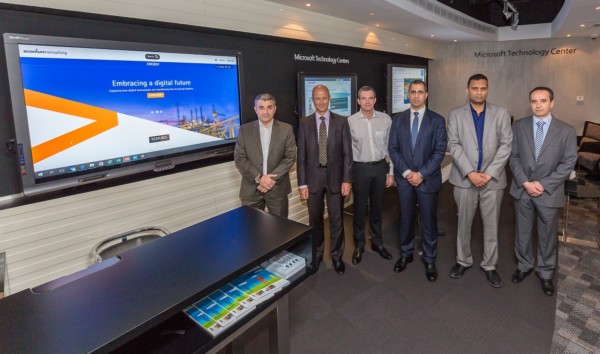 According to the company, the centre will help companies in the sector take advantage of the latest trends such as the Internet of Things (IoT), advanced analytics, modern productivity and cloud computing using Microsoft technologies like Microsoft Azure and Office 365. The centre also brings together leading industry players like Accenture, Aveva, Baker Hughes, Honeywell, OSIsoft, Schneider Electric and Schlumberger.
Despite oil price challenges, the industry is seeing increasing IT spend as a way to maintain profitability and boost productivity. According to the 2016 Upstream Oil and Gas Digital Trends Survey by Accenture and Microsoft, 80 percent of upstream oil and gas companies plan to increase spending on digital technologies in order to help them drive leaner, smarter organisations. The International Data Corporation (IDC), predicts that IT spending in oil and gas will increase to nearly $50 billion in 2016, while spending on connectivity related technologies should increase by 30 percent.
"Digital transformation is top of mind for executives in the oil and gas industry, which is why we built the centre of excellence in the Middle East," says Omar Saleh, Director for Oil and Gas, Microsoft, Middle East and Africa. "For the industry to transform, companies need to develop sound digital strategies, built on secure and agile platforms, either on a company's premises or in the cloud. Continuous dialogue with our customers and partners is essential for enabling innovation and moving the industry forward. This is what the centre of excellence is built for."
With 44 percent of respondents in the 2016 Upstream Oil and Gas Digital Trends Survey reporting that investing in the Internet of Things (IoT) is their next big priority, it's clear that in the current challenging environment the industry is focusing technologies on areas that will deliver efficiencies and savings in the short term while enabling faster decision making. Respondents also saw the greatest impact from IoT in enabling connected field workers, with 60 percent planning to have field workers and assets digitally connected with smart devices.
According to Massimo Pagella, resources lead for Accenture Middle East and North Africa the oil and gas industry leaders continue to look to digital technologies as a way to address some of the key challenges the industry faces. "They are expected to continue investing in areas that help lower operations costs, infrastructure costs and drive better asset management through analytics. However, looking into the future, these companies are starting to realise that traditional cost cutting levers will not be enough to sustain future growth. Accenture's unique alliance with Microsoft will help give this sector an opportunity not only to cut costs but also redesign businesses to thrive in volatile market conditions."
Microsoft's aims to bring its experience and expertise in cybersecurity, including its own Digital Crimes Unit, to protect organisations against modern threats. Security will be at the core of conversations taking place at the new centre of excellence for the oil and gas industry.