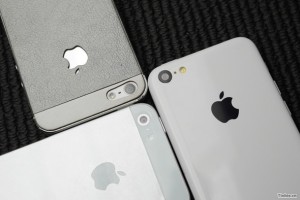 Microsoft has swiftly removed an Apple-slamming advert from its YouTube channel, stating that the iPhone 5c and iPhone 5s criticism in its video was "off the mark."
The ad, which was posted to Microsoft's YouTube channel on Friday but was quickly pulled by the company, shows two Apple employees talking to a man we assume is meant to represent Apple CEO Tim Cook (he's referred to as 'T' at one point). These employees are pitching the iPhone 5s and iPhone 5c models to Cook in the video, but in doing so, mocks Apple and its choices significantly.
Among the jibes in the video are comments on the iPhone 5c's colours, the plastic of the iPhone 5c, the gold version of iPhone 5s and the price of the iPhones.
Some of the mockery isn't backed up, or seems odd coming from Microsoft. For example, the Apple employees in the video talk about descriptive colour names, but Apple has stripped away all but one of those (Space Grey).
In addition, the man in the video asks "are we going to tell people they're made out of plastic? Nah bro." But actually, Apple designer Jony Ive describes the iPhone 5c as "unapologetically plastic" in promotions of the new iPhone. Plus, Nokia's Lumia series, which are Windows Phone devices, also come with coloured plastic shells.
Microsoft has since released a statement, which reads: "The video was intended to be a light-hearted poke at our friends from Cupertino, but it was off the mark and we've decided to pull it down."
The video was part of a series of seven #timetoswitch adverts, all of which have been removed from Microsoft's YouTube channel.