Microsoft has launched the Azure Skills programme as part of the company's efforts to fuel digital transformation in line with UAE Vision 2021. The Azure Skills programme will help participants advance their technical acumen on Cloud and will contribute to the country's innovation, economic competitiveness, and smart initiatives.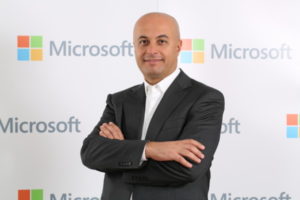 IDC forecasts that by 2020, more than one in three IT positions will be cloud related. Moreover, the research reveals that the availability and skill level of Cloud professionals have a direct impact on businesses. While IT employment worldwide will grow about 4 percent every year from 2015 to 2020, all of that growth will occur in cloud-related positions. Azure training and certification offers are a simple, and customisable way to increase the technical skills of individuals and enterprise IT teams.
IT professionals signing up for the courses will have access to a broad range of technical resources and trainings at different levels –  from free Massively Open Online Courses (MOOC) in a self-paced interactive environment, to full certification offerings.
"Industries are facing a bold new world with the amazing technological developments in the cloud, giving rise to unprecedented challenges and opportunities," said Samer Abu Ltaif, Regional General Manager, Microsoft Gulf. "Emerging technologies in the fields of hybrid cloud, mobility, data analytics and machine intelligence are changing nearly every aspect of the IT landscape, making it imperative for organizations to identify and fill the skills gap. Microsoft trainings and certifications will enable IT Professionals to address these technological challenges and develop skills crucial for embarking on this massive transformation."
He added, "Acquiring cloud skills has become a critical component in organisational success. Our Azure Skills courses and certifications will enable IT 'experts to reimagine their firm's IT infrastructure, preparing them for a competitive digital future."
IDC also reported that investment in digital transformation initiatives will reach $2.2 trillion by 2019. With more than 80 percent of Microsoft customers having already deployed or embraced the cloud, the surging cloud momentum is real and will continue to rise.