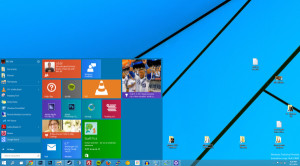 Microsoft has unveiled its long-anticipated Windows 10 operating system, as well as two new devices designed to extend the Windows experience.
On Wednesday, Microsoft showcased a variety of new experiences coming to Windows 10, including the following the Cortana personal digital assistant, which debuted on Windows Phone last year.
It is now also available on Windows 10 PCs and tablets. Cortana is a personal helper that learns an individual's preferences to provide relevant recommendations, access to information and reminders,
Windows 10 will also feature the new Microsoft browser, 'Project Spartan', which includes the ability to annotate by keyboard or pen directly on the webpage.
"Windows 10 marks the beginning of the more personal computing era in the mobile-first, cloud-first world," said Satya Nadella, CEO of Microsoft. "Our ambition is for the 1.5 billion people who are using Windows today to fall in love with Windows 10 and for billions more to decide to make Windows home."
New versions of Word, Excel, PowerPoint, OneNote and Outlook are designed from the ground up to run on Windows 10. Office universal apps on Windows 10 deliver a touch-first experience across devices.
New inking features in PowerPoint let users annotate slides in real time, and the new touch-first controls in Excel allow users to create and update spreadsheets without a keyboard or mouse.
The next version of the Office desktop suite is also currently in development and Microsoft will have more to share in the coming months.
Additional Windows 10 features include the Continuum mode, which allows Windows 10 to move between keyboard and mouse and touch and tablet as it detects the transition on 2-in-1 devices.
Windows 10 will offer new experience applications – consistent across the device continuum – for Photos, Videos, Music, Maps, People & Messaging and Mail & Calendar.
The built-in apps have an updated design, and content is stored and synced through OneDrive, enabling people to start something on one device and continue it on another.
"Everything about Windows 10 – the experiences, delivering it as a service and the free upgrade – means that Windows 10 isn't just another product, it's an ongoing relationship – one that will give ongoing value to all our customers," said Terry Myerson, Executive Vice President, Operating Systems Group, Microsoft. "The new generation of Windows is a commitment – a commitment to liberate people from complex technology and enable them to do great things."
Microsoft has also unveiled its HoloLens technology, which features see-through holographic high-definition lenses and spatial sound, allowing users to view and hear holograms.
Windows 10 includes a set of APIs that enable developers to create holographic experiences in the real world.
With Windows 10, holograms are Windows universal apps, and all Windows universal apps can also work as holograms – making it possible to place three-dimensional holograms in the physical world.
No wires, phones or connection to a PC are needed.
HoloLens comes with sensors and a Holographic Processing Unit that understands what the user is doing.
Microsoft has also introduced the Surface Hub tool for group productivity, and features digital white boarding; instant remote conferencing; and the ability for multiple people to share and edit content on the screen from a laptop, tablet or phone.
Available in two sizes – 55 and 84 inches – the Surface Hub features built-in cameras, sensors and microphones.
Meanwhile, Xbox on Windows 10 lets gamers and developers access the Xbox Live gaming network on both Windows 10 PCs and Xbox One.
Players can capture, edit and share gaming moments with Game DVR, and play new games across devices.
Players will also be able to play games on their PC, streamed directly from their Xbox One consoles to their Windows 10 tablets or PCs.
A free upgrade for Windows 10 will be made available to customers running Windows 7, Windows 8.1 and Windows Phone 8.1, who upgrade in the first year.