October 5, 2021; Dubai, UAE: Microsoft today announced that Windows 11, an operating system designed for the world of hybrid work, is now available to businesses and consumers across the region.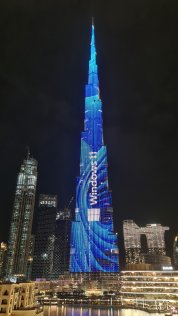 Pre-loaded in select PCs and available through an upgrade of Windows 10, Windows 11 empowers productivity, inspires creativity, and promotes wellbeing in hybrid work environments, by allowing its users to strike a balance between productivity and play.
"Hybrid work may be the future, but it brings its own challenges", said Mohammed Arif, Business Group Director, Modern Work and Security for Microsoft UAE. "Windows 11 has now arrived to bring an inclusive, easy, inspirational experience to everyone and help them achieve more than ever before. Tools that allow you to work from anywhere as if you were in a room with your collaborators; tools that allow you to work, rest, and play effortlessly while remaining productive – Windows 11 is the ultimate partner for the new normal".
Windows 11 was built for the hybrid future, with experiences that work how people work. It is the operating system of the new normal, secure by design and simple for IT professionals to deploy and manage. The new OS is a powerhouse of speed, efficiency, and optimised experiences, be they through touch, digital pen, or voice input. Microsoft has included new accessibility options designed by and for people of determination, and a new design and new sounds provide a work environment of calm and ease. Snap Layouts, Snap Groups, and Desktops provide more powerful ways to multitask and optimise screen real estate.
''Windows 11 is answering customer needs with new design & tools and a completely refreshed calming user experience", said Henrik Ertman Baunsgaard, General Manager, Consumer Sales and Marketing, Middle East & Africa, Microsoft. "A human connection with chat in Windows connecting to the people you care about. A great browser performance with personalised content and newsfeed and a best way to play games with Direct X12 Ultimate with direct storage, auto HDR and Xbox Game Pass Ultimate for cloud gaming".
The Start feature leverages the power of the cloud to gather all a user's most recent content in one place, regardless of the devices on which that content was created and last viewed. With Widgets, AI-powered feeds ensure that the most important information is at a user's fingertips. And Chat from Microsoft Teams is now integrated into the taskbar.
Microsoft believes that, in the new normal, leisure should be a vital part of daily life. Windows 11 is a gaming powerhouse, stocked with the latest technologies, such as DirectX12 Ultimate, DirectStorage, Auto HDR, and Xbox Game Pass, to make sure leisure time is as smooth an experience as focused work. Microsoft Store has been redesigned to make it even easier for people to search and discover their favourite apps and content, in a single, trusted location.
The Windows 11 unveiling happened by a light show at the Burj Khalifa in collaboration with distribution partner Sharaf DG. Nilesh Khalkho, founder member & C.E.O – Sharaf DG commented, "Sharaf DG is thrilled to exclusively partner for the launch of Windows 11 at Burj Khalifa. Windows 11 is a powerful operating system built to balance work and leisure seamlessly. Designed to be all-inclusive and optimised for the new world, it can change the way businesses and individuals collaborate. Sharaf DG has contributed substantial growth for Microsoft year-on-year, including the recently concluded Back To School season. With a large market share in Modern PCs which are built for an effortless upgrade to Windows 11 and a renewed focus on Gaming PCs, we have proudly aligned our customers for a smooth transition".