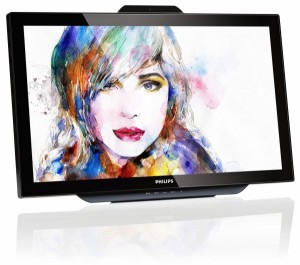 Philips Monitors brand license partner MMD has announced the release of the new 23-inch Philips 231C5 SmoothTouch display.
This display has 10-point capacitive touch and also features a webcam, microphone and an IPS LED viewing angle.
"With more and more people using tablets and Smartphones, we're now interacting with computers in totally different ways," said Thomas Schade, Vice President, MMD. "The new SmoothTouch display contributes to a richer user experience with technology, enabling people to engage intuitively with their PC using a range of touch gestures. At 23 inches, the display is spacious enough to get some serious work done, as well as vivid enough to bring apps to life."
The display includes "SmartStand": an adjustable stand that can be leaned back to almost 60 degrees on the desktop, placing it at the right angle for tap and swipe gestures.
It includes HDMI and VGA connections, Display Port, plus USB 3.0 for ultra-fast data streaming and simultaneous charging of a Smartphone.