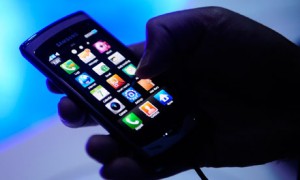 According to new research from Cisco, worldwide mobile data traffic will increase 13-fold over the next four years, exceeding the amount of data initiated over fixed lines by three to one by 2017.
Cisco estimates that mobile data traffic will reach 11.2 exabytes per month, or 134 exabytes per year, by 2017. An exabyte is a unit of information or computer storage equal to one quintillion bytes.
The Cisco Visual Networking Index Global Mobile Data Traffic Forecast for 2012 to 2017 says the big increase in mobile traffic is partly due to continued strong growth in the number of mobile internet connections, which will reach 10 billion and exceed the world's population by 2017.
The widespread use of smartphones and the increasing use of tablets are also boosting traffic on mobile networks. Cisco says smartphones, laptops and tablets will drive 93 percent of global mobile data traffic by 2017.
M2M (machine to machine) traffic, such as GPS systems in cars, asset tracking systems, and medical applications will represent 5 percent of 2017 global mobile data traffic.
Basic mobile handsets will account for the remaining 2 percent of global traffic.
To address the rise in demand for mobile internet, and to get around the lack of available new mobile spectrum and the expense and complexity of adding new macrocell sites, service providers are increasingly looking to offload traffic to fixed or Wi-Fi networks, said Cisco.
In 2012, 33 percent of total mobile data traffic was offloaded, but by 2017, 46 percent of total mobile data traffic will be offloaded onto fixed or Wi-Fi networks, the report says.
Cisco says there will also be faster mobile data speeds, with the average global mobile network speed increasing from 0.5mbps in 2012 to 3.9mbps in 2017. Mobile video will represent 66 percent of global mobile data traffic by 2017, up from 51 percent in 2012, Cisco said.
Doug Webster, Vice-President of Service Provider Networking Marketing, Cisco, said, "With such dramatic mobile adoption, we are rapidly approaching the time when nearly every network experience will be a mobile one and, more often than not, a visual one as well.
"This trend is a result of the seemingly insatiable demand by consumers and businesses alike to achieve the benefits gained when connecting people, data, and things in an 'Internet of Everything'."
The Cisco Mobile VNI study relies on independent analyst forecasts and real-world mobile data usage studies. Cisco adds in its own estimates for mobile application adoption, minutes of use and transmission speeds, taking account of mobile broadband speeds and device computing power.