Dubai, UAE, 10 November 2021: Hybrid work has increased the need for high-quality multifunctional headsets, as remote workers seek to reduce background noise from remote workspaces, or simply enjoy music while on the go. In light of this, Bang & Olufsen and Cisco have announced the creation of the Bang & Olufsen Cisco 980, a luxury business headset that pairs Bang & Olufsen's unique combination of timeless design, unrivaled craftsmanship and powerful sound with Cisco's integrated meeting controls, Adaptive Active Noise Cancellation, and frictionless IT management capabilities to ensure long-lasting, secure communications.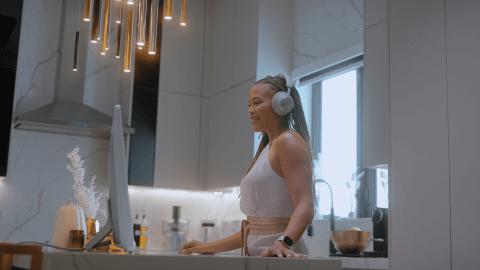 "Clear and seamless audio is essential for the hybrid work environment", said Osama Al-Zoubi, CTO for Cisco Middle East and Africa. "We're thrilled to work with the leaders in luxury audio solutions, Bang & Olufsen, to bring to market the highest quality audio device for business – combining high-end aesthetic, complete functionality and fantastic quality".
"We are excited to join forces with Cisco and build on the strengths of both brands", said Kristian Teär, CEO Bang & Olufsen. "Today, customers want a product they can use at home, at work or in transition – and look and feel good when using it. We're integrating Cisco's industry leading technologies with our renowned capabilities within sound, design, and craftsmanship to create the ultimate audio product for the hybrid world". 
Key features of the Bang & Olufsen Cisco 980 include: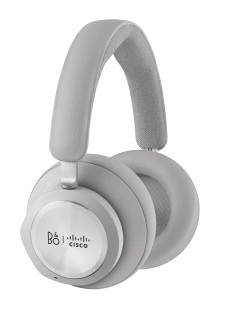 Enhanced capabilities for business: With Bluetooth 5.1, Webex integrations, voice prompts and convenient on-ear call controls that allow users to easily mute, answer or end calls, the Bang & Olufsen Cisco 980 offers industry-leading connectivity and functionality.
Crystal clear communication: Elevate and enhance calls, meetings, video and music experiences with premium acoustics and audio, including beamforming microphone arrays that create a Virtual Boom Arm and help to power Adaptive Active Noise Cancellation providing a more immersive listening experience. Rich, immersive audio helps users feel as if they are in person and excellent noise canceling lets users focus on the task at hand.
Lasting comfort and timeless design: The headset is designed to provide unmatched comfort. The Bang & Olufsen Cisco 980 is crafted in a lightweight structure that has been carefully engineered with high-end materials to ensure a stable, enduring fit for all-day use.
Enterprise-grade management and security: IT administrators can easily deploy, manage, and view real-time analytics of the Bang & Olufsen Cisco 980 – all from a single platform. It also provides enterprise-grade hardware and software protection to help calls and conversations stay secure.
Pricing and Availability
The Bang & Olufsen Cisco 980 will be available to order starting early 2022 at the Cisco suggested resale price of $549 USD.
Additional WebexOne Resources