CNME Editor Mark Forker secured an exclusive interview with Florian Haarhaus, VP EMEA at Nintex, to learn more about its market presence across the Middle East, the role it is playing in terms of enabling and empowering companies to transform their process automation – and the unique capabilities of 'Promapp'.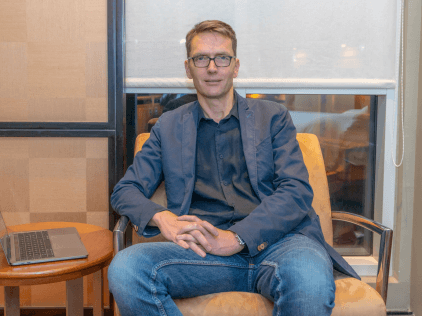 Nintex has established itself as the global leader when it comes to process intelligence and automation – and the products provided by the company are equipping enterprises with the tools and solutions needed to succeed in the new and ever-complex digital economy.
Florian Haarhaus has enjoyed a distinguished career in the IT ecosystem and is regarded by many of his peers to be one of the industry's leading thought-leaders. In an excellent and candid interview, we began our conversation by examining just what Nintex provides for its partners and customers.
According to Haarhaus, Nintex are involved in the currency of empowerment.
"We are very much in the business of empowering companies to improve the way people work through process automation, management, and excellence. However, the first question we ask customers that are looking to automate, or create workflows is have you articulated your processes in a clearly defined way, so that everybody who needs to understand those processes has access to them? You'd be surprised by just how many companies do not do that, so the first step for us is to provide them with structure and a roadmap of where they want to go," said Haarhaus.
The COVID-19 pandemic has brought with it many challenges, but out of every challenge comes opportunity, and Haarhaus used the onboarding of an employee as an example of how you can transform a business process to make it much more effective.
"For example, you might start off with a process to requisition PCs for new employees being onboarded, and during the pandemic you had to get the right PCs to the right people, but with nobody coming into the office it was a challenge. Then once that was completed people thought wouldn't it be a good idea to automate a bigger piece of the employee onboarding process that also factored in getting an offer, getting your equipment, access to training materials, and access to team group meetings on Zoom or MS Teams," said Haarhaus.
In addition to this, the VP of EMEA at Nintex also said this could be extended to the offboarding process as well to achieve a full end-to-end digital process.
"In term of offboarding an employee, if you are a banking provider then you have lots and lots of compliance requirements to ensure when people leave they no longer have access to the systems, so they need to be decommissioned and all that needs to be audited and recorded, so what started out as an equipment requisition process results in an end-to-end employee onboarding change and offboarding process and we can help companies do that in a very agile, quick and easy way," said Haarhaus.
Haarhaus also outlined how Nintex provides 'great value' for its customers and believes that its ability to provide such value for money is one of its key market differentiators.
"We provide high value in terms of low cost of ownership, quick returns, and give end-users the ability to create their own processes. It is all about empowering those people who are closest to those processes to be able to design and automate those processes," said Haarhaus.
Haarhaus also disclosed how one of their customers told them that they were democratising digital transformation within organisations because they are putting the control into the hands of the people that are working with these processes on a day-to-day basis, which only serves to reinforce the viewpoint that Nintex is in the business of empowerment.
Haarhaus also illustrated the importance of not breaking the 'digital chain' and said another key factor in its success was its compatibility with existing architecture and infrastructure.
"Our workflow engines will be connected with most, if not all systems that have open APIs, and that is one of the reasons why we are very scalable and affordable is because we use all the infrastructure that is already there, we don't add another huge system. We work with all those systems, and we orchestrate the workflows across those different systems. The value of a digital process is only as strong as the weakest link, if you are forced to drop out of the digital flow to do something physical like update an old SAP system, or print something off, sign it and scan it back into the system then that is a disaster. That's why we have modules like e-signature and document generation. All our products are there to ultimately maintain and make sure that people can really go end-to-end from design right through to optimisation," said Haarhaus.
Nintex has close partnerships with some of the biggest enterprises and government agencies in the UAE and Kingdom of Saudi Arabia – and is one of their most important markets globally in terms of growth.
Haarhaus also believes their success in the region is borne out of the fact that they share the same goals.
"The UAE and KSA are two of our biggest growth markets globally, and are two areas that we are investing most aggressively in. If you look at the Saudi Vision 2030 program then you will see that most of the partner companies within that are already Nintex customers, and most of the government entities are also customers of ours, including PIF. I think the reason our solution has been so well received in the region is that our objectives are aligned almost 100% with that of the goals and objectives of programs like UAE Digital Government Strategy 2025 and Saudi Vision 2030. One of the very first lines of the UAE Digital Government Strategy 2025 plan is a declaration that they don't want to leave anybody behind, and they claim that this can be achieved by adopting open and exclusive processes," said Haarhaus.
Nintex have recently just launched a new cloud datacenter in the UAE which Haarhaus has described as hugely important and significant, whilst he also disclosed some of the key elements of its Promapp solution which has really resonated with large swathes of the market.
"When you open Promapp its looks like Facebook and Google and it is completely web-based. It captures the process in the way that people think and talk about the process, and it is highly collaborative. It is easy to use, very fast and secure. It is a living and breathing thing because processes are never static. User experience was a guiding principle for us when designing all our products and that was the case with Promapp. If we have a trade-off between complexity and useability then we will typically lean towards useability, because we feel that complex sophisticated functionality if it is hidden somewhere that nobody can find then it is pointless, and it can ruin the interface, so it's a no-brainer – and the market response to Promapp has been phenomenal and again is empowering our customers and partners, which is what we are all about as a company," concluded Haarhaus.