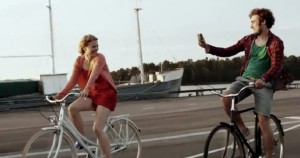 Nokia issued an apology this week for an advertisement that lacked a disclaimer for using a simulated video to describe the new PureView anti-blur technology inside its Lumia 920 smartphone.
"We should have posted a disclaimer stating this was a representation of OIS (Optical Image Stabilization in PureView) only," Nokia said in a blog post entitled "An apology is due."
The blog continues: "This was not shot with a Lumia 920. At least, not yet. We apologise for the confusion we created."
The blog post, written by Heidi Lemmetyinen of Nokia (with no title given), includes a 16-second video snippet used at the Wednesday news event in New York City where the Windows Phone 8-based Lumia 920 and Lumia 820 smartphones were launched.
The video snippet shown to reporters was different than the simulated video included in some Nokia advertising.
The video snippet in the blog post has a split-screen with both sides showing the same scene from the point of view of a person riding a bike along a seaside dock.
The video on the left side of the split screen was taken using an unnamed smartphone that lacked OIS technology. The video on the right side, which shows the same scene with greater visual clarity, is said to be shot with a Lumia 920 prototype using OIS.
The difference in the two video images is "apparent," the blog post says.
It isn't clear how the advertising representation was created or exactly when and where it was used. Nokia couldn't be reached for further comment on the situation.
Various commenters on the Nokia blog praised the company for owning up to the problem, though others were less forgiving. "Once a liar, always a liar," said a commenter named "testr."