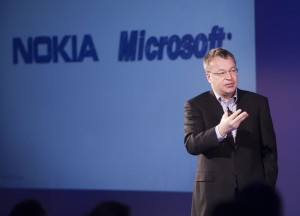 In a cryptic statement during the launch of Nokia Windows Phone 8 smartphones this week, Nokia's CEO Stephen Elop might have tipped the company's hand about developing tablets.
If the company does make a Windows 8 tablet, it would embrace both the phone and computer versions of Windows 8 and perhaps demonstrate what advantage the common interface might hold for users.
"We have not announced any plans to introduce a tablet product on Windows or any other platform. But what is quite clear is that the digital experience that people expect today is one that spans multiple different environments: the phone, the tablet, the PC certainly, with Nokia's strength in mobility, this is an area we're looking at very closely, and hope to be able to talk more broadly soon about what our perspective is on how to approach that opportunity. It's a real opportunity," he said.
It sounds like a non-denial confirmation that they will build a tablet. If he'd wanted to deny, he would have said, "We're not making a tablet." But he said, "We have not announced any plans to introduce a tablet," which is not only already known, but also doesn't actually answer the question.
Windows 8 App Fest in India
If Windows 8 lacks anything it's apps, and a Microsoft-sponsored App Fest in India this month will try to address that.
The 18-hour event in Bangalore calls for teams of up to four programmers to design and build apps for submission to a Microsoft team for review and possible submission to the Windows store, says as story in The Times of India.
Microsoft lags behind Apple and Android in the sheer number of applications written to the new touch-friendly operating system, so this event and others like it could put the company and Windows 8 itself on better footing.
Microsoft seems to be taking a more conservative approach with apps development for Windows Phone 8, with a preview program for the SDK kit for the phone starting next week that is open only to developers who have already published Windows Phone apps. Everybody else will have to wait until later this year when Microsoft unveils Phone 8.
Symantec offers free Windows 8 security
Symantec is developing three security applications for the Windows 8 platform specifically: one that offers cloud-based security management, a second that white lists safe data and applications and a third that wraps the Internet Explorer 10 browser engine inside a secure casing, according to a story in Computerworld.
The applications are free initially, but later may be restricted to those with Symantec service subscriptions and who own Norton security software, the story says.
In the story Symantec's senior director, product management Gerry Egan doesn't have much good to say about the security improvements in Windows 8 vs Windows 7, something Microsoft has been promoting. He says it is partially true that Windows 8 is more secure, but that under the covers the operating system is a traditional Windows desktop that is vulnerable to the same type of malicious code.
He says it remains to be seen what new attack vectors the operating system provides to attackers and what defences Microsoft and third parties will come up with in response.
Windows 7 finally tops XP on desktops
With just seven weeks before Windows 8 ships, Windows 7 is finally the dominant desktop operating system, according to a measurement by NetMarketshare. Together the two account for 85.3% of desktops, NetMarketshare says.
Windows 7 launched in 2008 and is popular and stable. But if it has had this much trouble unseating XP, which has been around since 2001, then Windows 8 is likely to be in for a challenge, too. Windows 8 is different in that it is better suited to tablets than the other two, so may have some advantages in that it may grow in popularity as a tablet platform without having to displace another operating system. The problem is that the tablet market is dominated by iOS and Android devices that have a combined share of 86.8%.
Windows 8 launches Oct. 26.