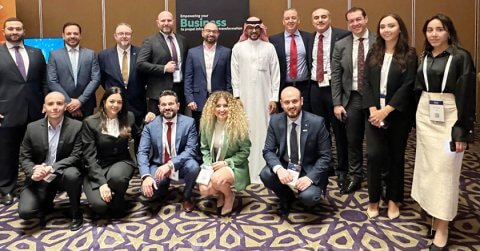 Nutanix, a leader in hybrid multicloud computing, together with technology partner HPE, and channel partner Mannai – HP Solutions, a business unit of Mannai Trading Co. WLL,  participated as Gold sponsors at the recently held IDC Qatar Cloud and Datacenter Roadshow in March.
Mr. Mohammed Abulhouf, Senior Director & GM EMEA Emerging Markets at Nutanix and Mohammad Alrehaili, Managing Director, Middle East at HPE jointly delivered a keynote address entitled 'Powering digital economy with data-first modernisation'. The session (rated a 4.8 out of 5 – the highest score for a speaker and content) was attended by over 180 tech, audit and compliance executives across government, banking, finance, education, public services, oil & gas and healthcare industries.
Elaborating on the partnership between Nutanix and HPE, Iain Davie, Senior Alliance Manager EMEA at Nutanix comments, "Organisations today require IT infrastructure and services to be deployed faster. While adoption of hybrid cloud has accelerated, on-premises infrastructure continues to play a major role in most organisations. The HPE GreenLake edge-to-cloud platform brings the cloud experience to apps and data irrespective of where they live—in edges, colocations, and data centres—enabling organisations to free up capital and talent, to accelerate what's next and to boost operational and financial flexibility. At the same time, enterprises count on Nutanix software for its flexibility and scalability to run their database services, private cloud, and virtualised desktop infrastructure. HPE and Nutanix jointly deliver a new way to operate and pay for infrastructure – delivering on the promise of the cloud, across key workloads and regulated industries. Together we bring to life an organisation's hybrid and multi-cloud strategy – delivering performance, while allowing organisations to eliminate overprovisioning risk, gain greater visibility into consumption and performance, and even access turnkey management services with a fully HPE-managed hybrid cloud solution".
Mohammad Alrehaili, Managing Director, Middle East at HPE says, "HPE GreenLake edge-to-cloud platform can offer our customers the best consumption-based model and brings the cloud experience to them wherever their data lives. Together with Nutanix, HPE GreenLake provides customers with managed hybrid cloud services to drive digital transformation through an elastic as-a-Service platform that accelerates their digital transformation using a data-first modernisation approach".
Nutanix and HPE signed its first joint deal recently in Qatar with a large, well reputed financial services organisation. The deal involved HPE GreenLake coupled with Nutanix Enterprise Cloud as a Service.
With the State of Qatar affirming that digital transformation is essential to achieving Qatar National Vision 2030, Nutanix is committed to helping enterprises in the country modernise their IT infrastructures and accelerate digitisation initiatives. Hani Salameh, Sales Manager, Nutanix Qatar says, "Cloud computing is the cornerstone of a digital transformation strategy. However, from our discussions with customers, we find that the growing level of diversity in cloud deployments creates enormous complexity in managing application's data across multiple cloud environments. Comprehensive tools that allow organisations to provision, move, manage, monitor, and secure applications and data from a single console is a growing priority for IT. This is where Nutanix plays a major role in cloud computing. We help organisations simplify cloud complexity with an open, software-defined hybrid multicloud platform, so that they can focus on business outcomes and new innovations".
Nutanix is developing and empowering its channel ecosystem in Qatar to become true 'Champions of Nutanix' in order to be able to autonomously help enterprises sort through the complexities of cloud adoption and deliver the applications, networks, cloud services, storage solutions and other IT components that they need. One such empowered partner is Mannai – HP Solutions. Speaking about the partnership, Shaista Ahmed, Director – Channel, OEM-Alliances & Distribution, Emerging Markets at Nutanix comments, "Mannai – HP Solutions is Qatar's leading systems integrator, providing end-to-end solutions throughout the whole technology stack. The company's wide customer base provides us with an entry-point into blue-chip enterprises, government ministries and SME private businesses. We have been able to forge a successful alliance with Mannai – HP Solutions that now serves as a template for other channel partnerships in the country".