The German University of Technology in Oman (GUtech) has signed an agreement with Hussam Technology Company (HTC) and Three Pillars Consulting (TPC) to implement the first solar training programme in the Sultanate.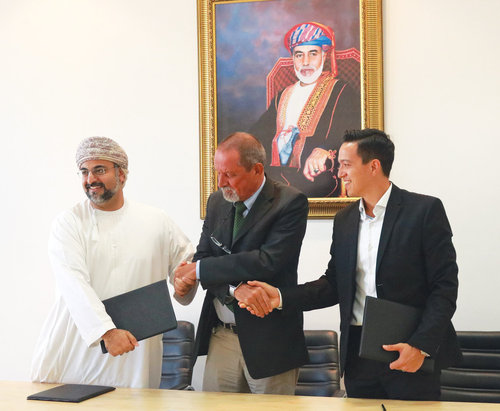 The programme will begin on GUtech's campus in Halban, just outside Muscat, and is being sponsored by BP Oman's latest round of Social Investment Programme. This is just one of a number of projects that has been initiated in response to the announcement that Oman plans to generate 90 megawatts (MW) of electricity from renewable energy projects by 2019.
"We are glad to participate in the founding of a special solar training programme at GUtech," said Professor Dr Ing Michael Modigell, rector of GUtech.
Along with HTC, TPC and SEI three training classes will be conducted per year. "GUtech has agreed to provide the indoor classroom and outdoor training spaces required for such a programme, over the course of an initial three-year period. The outdoor space will be roughly 400sq m and provide capacity to train over 30 students per session," added Professor Modigell.
The training curriculum developed by SEI has been used internationally to prepare interested persons who want to work in the photovoltaic sector. It has been further localised with the help of HTC and TPC to meet Oman's codes and standards.
"We expect a wide spectrum of trainees to attend this course, from fresh graduates, to mid-career engineers, and consultants. We also see great opportunity for local Omani entrepreneurship and employment in this exciting distributed energy generation sector," said Dr Firas al Abduwani, CEO of HTC.
Several groups of students from the Urban Planning and Architectural Design department at GUtech, under the instruction of Professor Alexander Kader and lecturer Petrit Pasha, just participated in a design competition to create the first iteration of the outdoor training facilities. "The students really impressed us with both their design talents and skills," said Michael Tsang, CEO of TPC.
The winner of the design competition will help in the final design of the training facility, which is expected to be built by February 2018.