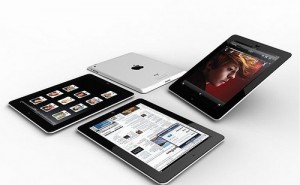 In its the third quarter earnings call Apple yesterday revealed that twice as many iPads as Macs were sold for educational purposes.
CFO Peter Oppenheimer said: "The iPad continues to be a great success in the US education market. Even though, as I mentioned earlier, we achieved all-time record Mac sales to US education institutions during the quarter, we sold more than twice as many iPads as Macs."
Apple sold 1 million iPads into schools, with the interest in the iPad 2 being particularly strong, noted Apple CEO Tim Cook, saying that this more affordable tablet was key to gaining educaiton sales.
Cook said: "The adoption rate of iPad in education is something I've never seen from any technology product in history. Usually education tends to be a fairly conservative institution in terms of buying, or K-12 does, and we're not seeing that at all on the iPad."
Cook mentioned that a school district in Texas had bought 11,000 iPads that it is using in lessons.
Analysts argue that Apple needs to produce a smaller mini iPad as it will help the company take on the education market. The success of the iPad 2 in schools shows that there is an interest in a lower cost model in this market.
Should Apple be concerned that the iPad is canibilising sales of Macs in education? This is the second consequtive quarter in which the iPad has seen double the sales of the Mac in education.
Apple also noted that there had been 14 million downloads of iTunes U during the quarter. Apple has added 700,000 new schools and 750 new courses.
We have seen the iPad being used in more specific areas of education, such as to help people with autism learn social skills and communicating.
An additional 16 million iPads were sold in the quarter overall and a total of 4 million Macs. The Apple quarter ending on 30 June this year generated a net profit of $8.8 billion, according to the company's financial results announcement.
Apple is pushing forward the iPad as the new tool for students and educators. It is currently the main feature on the Apple in Education page, showing off iBooks textbooks.
This may be the beginning of the decline in use of desktop computers in education as the portability of tablets proves popular as well as the thousands of easy-to-use apps available. The developing software means that iPads are gradually catching up with PCs in terms of capability, with the only obvious educational setback being a current lack of Microsoft Office apps, as Office is currently used in most schools.
A recent job posting at Microsoft suggests that an iOS version of Office may be in the works, however.