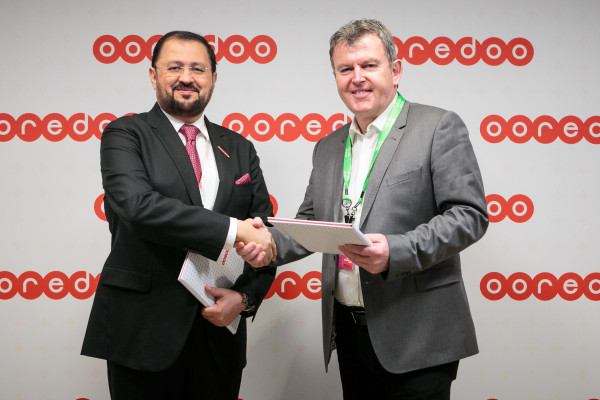 Ooredoo is building its long-term strategic relationship with Cisco, announcing two new significant agreements at the recently held Mobile World Congress in Barcelona.
According to both companies, the two agreements will significantly expand the range of services available to Ooredoo customers, as companies look to deploy innovative solutions to reduce costs and increase productivity.
With the first agreement, enterprise customers will now be able to lease Cisco technology from Ooredoo, providing them with access to cutting-edge technology. Through the second agreement, Ooredoo will be able to bring Cisco's Virtual-Managed-Services (VMS) suite to the Qatar market.
Waleed Al Sayed, Chief Executive Officer, Ooredoo Qatar, said, "We are continually looking to enhance the range of services and solutions available to companies in Qatar, working with an ecosystem of technology leaders. Our relationship with Cisco, the worldwide leader in networking, continues to bring new solutions that enable companies to connect, communicate and deliver incredible benefits for their customers."
Through the new Cisco leasing agreement, companies will be able to lease essential business infrastructure without having to make a large investment. Hardware available through the agreement includes networking solutions, collaboration technology, telephony, video and instant messaging, and servers.
With the leasing agreement, each order will be in place for a period of three years, and customers will be able to buy back their equipment at the end of their contract for a low cost. Customers can also opt to discontinue using the equipment on lease, or have their solution replaced with new solutions.
"In the current environment, more companies in Qatar are looking to manage costs and support a more streamline IT investment strategy," Al Sayed explains. "We have pushed for this leasing agreement because it enables Ooredoo business customers to stay up-to-date with the latest solutions and remain within their budgets."
Ooredoo has also agreed to work with Cisco to deliver Virtual Managed Services (VMS) to the Qatar market.
With Cisco's Virtual Managed Services (VMS), Ooredoo will be able to offer its customers automated cloud-based services, enabling them to outsource the management of their network and IT services to a trusted technology partner.
Ooredoo will begin with Cisco's Cloud VPN, part of Cisco's Virtual Managed Service portfolio, which offers secure business connectivity and routing for site-to-site, remote access, and Internet gateway applications.
Based on the European Telecommunications Standards Institute (ETSI) management and orchestration, Cisco Cloud VPN delivers on the promise of automation and simplification for managed services and leverages Cisco's best-in-class portfolio of enterprise virtualised networking functions (VNFs).