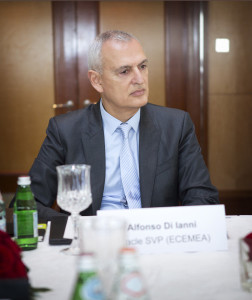 Oracle's Alfonso Di Ianni, Senior Vice President, East Central Europe, Middle East, and Africa, has said that cloud adoption in Dubai has seen a marked upswing in the past 12 months.
Speaking to journalists at an Oracle conference held in Dubai, Di Ianni said that in the UAE in the past year more than 100 customers had moved business applications onto the Oracle cloud.
"Businesses in the UAE today are no longer asking the question 'should we put our applications in the cloud?' but rather 'which aspects of our business can be run more effectively in the cloud?'" he said.
Di Ianni went on to say that subscriber-based business software offered in the cloud is just one of the newer technologies that can support Dubai's Smart City initiative. "To meet the aggressive deadlines Oracle recommends that Dubai focuses its attention on reducing the complexity of its IT infrastructure, employ social monitoring tools to listen and respond quickly to people's experience in the city, and to offer great service through diverse delivery channels."
Dubai's Department of Finance recently announced the launch of its Smart Fiscal Planning Programme based on Oracle Hyperion.  The Smart Fiscal Planning Program is part of the Smart Government initiative and is, according to the Department of Finance, expected to save hundreds of millions of dirhams.
Di Ianni said it was encouraging to see a collective will on the part of Dubai to become Smart enabled, saying the technology is available today to achieve on the Smart City objectives. "Five years ago the technologies needed to be truly smart were simply not there – social listening tools, big data analytics, sophisticated mobile functionality, and machine-to-machine network capabilities," he said. "Today all these will be utilised in any smart city."