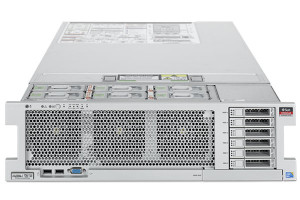 Oracle is introducing a new generation of its Exalytics appliance for high-speed data analysis that comes with a slightly higher price tag but major increases in memory and storage capacity.
Exalytics In-Memory Machine X3-4, which was announced Monday, includes 2TB of RAM, 2.4TB of flash storage as well as 5.4TB of traditional disk storage. As with the first incarnation, released last year, the Exalytics box is certified for a range of integrated Oracle software, including BI Foundation Suite, the TimesTen in-memory cache, Hyperion Essbase and Endeca Information Discovery.
All of those software products were recently updated as well, said Paul Rodwick, vice president of product management for Oracle Business Intelligence.
The initial version of Exalytics, X2-4, had only 1TB of RAM and 3.6TB of raw disk, although Oracle already introduced a 2.4TB flash expansion pack option.
Oracle has also maintained the same level processing power, including four 10-core processors in the rack. The company is planning to offer X2-4 users the ability to add more RAM to their machines, Rodwick said.
X3-4's hardware lists for US$175,000, compared to $135,000 for X2-4, according to an official price schedule.
Exalytics works in conjunction with Oracle's original "engineered system," Exadata, although the latter can run both transactional and analytic workloads in the same box.
Exadata is the most popular so far of Oracle's engineered systems, but the company is now seeing customers buy multiple Exalytics machines at once as well as make subsequent purchases, according to Rodwick. He declined to provide current sales totals.
Oracle is betting big on the engineered system strategy. Officials have defended steadily-falling hardware revenues since Oracle's acquisition of Sun Microsystems, arguing that the company is focusing on higher-margin products like Exadata and Exalytics, which also carry plenty of lucrative software licenses, rather than commodity servers.
Exalytics was linked to Oracle's decision to cut the price of BI Foundation Suite significantly, from $450,000 per processor to $300,000, according to Rodwick. By doing so, Oracle hopes customers will be more inclined to licence the software for every processor in an Exalytics box, as well as multiple boxes, he said.
"Companies run Oracle BI in mission-critical fashion," he said. "There's more and more interest in high availability for analytics. When the system is down, the company is essentially blind."
Oracle is running into many companies that want to set up redundant Exalytics environments in order to ensure continuous access to analytics, he said.