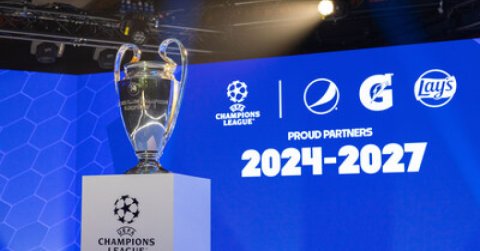 PepsiCo, a partner of the UEFA Champions League (UCL) since 2015, announced the extension of its strategic partnership for another three years, until June 2027.
PepsiCo is the first sponsor to renew the UCL collaboration and comes at a pivotal time as the competition format changes and the number of participating clubs increases, providing fans new ways to enjoy iconic PepsiCo brands including Pepsi®, Lays® and Gatorade®.
Now in the third cycle of its UCL partnership, PepsiCo will help expand the reach of the world's most-watched sports competition, drive next-gen fan engagement and look to accelerate its PepsiCo Positive (pep+) sustainability agenda of supporting people and the planet. Specifically, the extension will reinforce PepsiCo's commitment to drive societal and environmental impact with a $1 million investment dedicated to collaborative projects with the UEFA Foundation for Children as well as to initiatives focused on environmental sustainability, including joint efforts on the "road to zero" to significantly reduce single-use plastic.
Fuelling the future of football with next gen fan engagement and experiences
The next era of the PepsiCo and UCL partnership will fuel a two-way dialogue between brands and fans and will generate cultural moments of global conversation. PepsiCo is committed to delivering unmatched experiences for fans and is striving to further expand the reach of UCL globally and doubling up activations in the U.S. – the fastest growing football market – and the Middle East:
UCL Final Kick Off Show by Pepsi: Among the highlights of the renewed partnership is a joint commitment to scale the Kick Off Show by Pepsi, the must-see spectacle held moments before the UCL Final match each year. Since the Kick Off Show's inauguration in 2016, Pepsi has brought live global musical artists to the world's most watched annual sporting event, evolving the Final into a truly global entertainment platform for music as well as football.
Digital & Data Fan Engagement: With the commitment of accessing new audiences and finding more innovative ways of interacting with consumers, PepsiCo and UCL will utilise each other's database of fans to deliver bespoke experiences based on their unique preferences and behaviours across multiple digital touchpoints. This partnership with take digital and data engagement to the next level and continue to capture new growth channels.
Fuelling Teams: To provide support to competing teams, coaches and referees, Gatorade is committed to fuelling everyone forward with hydration products and equipment such as the iconic Gatorade squeezy bottles on all match side-lines. Gatorade will also provide extensive hydration and sports nutrition resources through the Gatorade Sports Science Institute (GSSI) to help players maximise their performance.
"PepsiCo has a storied history with the world's most beautiful game, and we're delighted to renew our partnership with the UEFA Champions League to expand the reach and impact of football worldwide", said Adam Warner, Head of Global Sports and Partnerships at PepsiCo. "For the past eight years, our global markets have delivered best-in-class activations, harnessing the combined power of the UEFA Champions League and PepsiCo iconic food and beverage brands. With the extension of our sponsorship, we will continue leveraging our portfolio to drive positive change to people and planet on and off the pitch".
"We are delighted to continue partnering with PepsiCo and their iconic brands for the next three-year cycle. Together, we will continue improving the fan experience in innovative ways and positively impact communities through the power of football around the world", said UEFA marketing director Guy-Laurent Epstein.
Connecting communities through the power of football
Beyond a shared love of the game, PepsiCo and UEFA share a passion for leveraging the world's most popular sport to drive important societal action and have increasingly collaborated on various community and sustainability initiatives. PepsiCo is investing $1 million per season to jointed projects with the UEFA Foundation to further their programs:
Sparking joy with Lay's RePlay: Lay's RePlay is a global initiative created in partnership with the UEFA Foundation for Children, launched with the aim of giving deserving communities access to football pitches made from recycled Lay's potato chip bags. To date, Lay's RePlay has unveiled seven football pitches in South Africa, Brazil, the UK, the US, Italy, Egypt and Mexico with a potential monthly reach of 14,000 community members around the world. With a further four pitches in planning stages, Lay's RePlay global footprint is set to span 10 countries with 11 pitches around the world.
Team of Champions: With a $1 million commitment made over the past three years, PepsiCo has expanded its "Team of Champions" to improve access to football in underserved communities across the U.S. The investment has made an impact on and off the pitch, including helping teams with apparel and equipment costs, field access, mentoring, coaching and education and fan experiences.
Championing sustainability: At the 2023 UEFA Champions League Final and the 2023 UEFA Women's Champions League Final, PepsiCo and UEFA implemented innovative circular economy practices to minimise the impact of football on the environment and drive resource efficiencies. This included the adoption of returnable packaging solutions for both food and drinks at the 2023 UEFA Women's Champions League Final and the incorporation of recyclable and biodegradable fibre cups at the 2023 UEFA Champions League Final, where a pilot fan sampling using 48,000 reusable and smart cups was implemented. These initiatives will pave the way on the "road to zero" to significantly reduce single-use plastic, with the aim of expand this approach further within European football in the coming years.