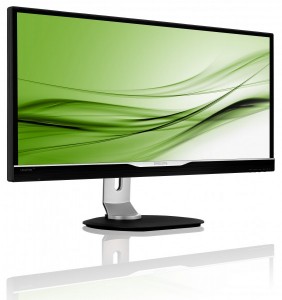 Philips this week launched its new "ultra-wide" 29-inch AH-IPS monitor with MultiView in the Middle East, dubbed the 298P4QJEB.
The new monitor uses an advanced 21:9 panoramic AH-IPS panel with True 8-bit colour depth, Philips said, adding that this delivers "superb" colour accuracy. And the vendor's TrueVision technology achieves more than 99 percent RGB colour space, Philips said. This delivers Quad-HD 2,560 x 1,440 or 2,560 x 1,080-pixel images.
Graphics and images should come alive with this monitor, thanks to the high-performance panels with a high density pixel count, the 178/178 wide viewing angles and the high-bandwidth source inputs such as Displayport, HDMI, Dual-link DVI or optional Thunderbolt.
The monitor's MultiView display technology enables dual connect and the viewing of multiple devices side by side simultaneously.
Philips said the 298P4QJEB is most suitable for demanding professional environments that require highly detailed information for CAD-CAM solutions, using 3D graphic applications or a financial wizard working on large spreadsheets.
In terms of style, the 298P4QJEB's outer bezel is limited to just 2.5 millimetres in thickness, which, combined with the in-panel black matrix strip of around nine millimetres, means minimal distractions from the screen.
"The new 29-inch UltraWide, Crystalclear HD, Panoramic view monitor with MultiView display technology offers unique user experience, especially for extremely demanding professionals who demand exceptional graphic quality display and flicker-free pictures," said Wing Wang, Product Manager for the MEA and Central Asia, MMD, a wholly owned company of TPV established in 2009 through a brand licence agreement with Philips.
"The monitor is especially suited for mulit-display or tiling set-up like gaming, graphics design and professional applications – the ultra-narrow bezel display gives you the feeling of using one large display."