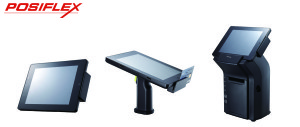 Point Of Sale touch screen terminals and peripherals manufacturer Posiflex Technology will launch a new mobile POS together with its first Middle East & North Africa (MENA) office in Dubai to coincide with the Taiwan-based company's participation in GITEX Technology Week 2014.
At GITEX, a major annual trade fair which will be held this year from October 12-16 in Dubai, Posiflex will debut the MT-4008W, a mobile POS specifically created for both the retail and hospitality sectors.
An 8" tablet that supports MSR attachment, it can be integrated with the choice of a detachable pistol grip or a hand strap depending on the application. An optional dock station allows the device to function as an all-in-one POS.
The detachable pistol grip is equipped with a 1D or 2D barcode scanner and houses a removable battery.
"The MT-4008W creates a brand new user-friendly experience for mobile retailing and hospitality," said Owen Chen, President and CEO, Posiflex Technology. "To coincide with our thirtieth anniversary and to show our commitment to the Middle East and North Africa region, Posiflex chose to debut the MT-4008W at this year's GITEX and establish a regional office in Dubai."
The MT-4008W features an optional dock station that integrates a 3" WIFI thermal receipt printer and has connectivity options such as Serial ports, USB ports, LAN ports and CR ports.