Prestigio's new brand direction keeps pace with the development of technology on the electronics market, changing the perception of high-tech products and the ways in which people are using them. The company's ambition to create products with a design that is both stylish and practical, geared towards the end user is the key to this success. The company's research in the realm of modern design was recognised in 2020 – Prestigio team received multiple Red Dot Awards for the Click&Touch keyboard implementing the Touch on Keys technology by Clevetura.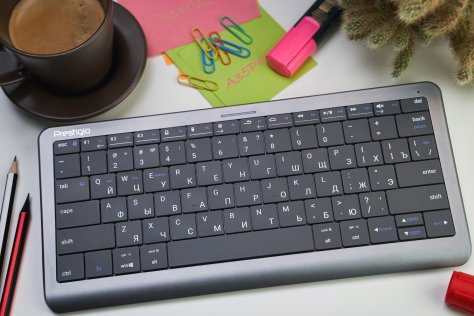 Design of the Prestigio Click&Touch interactive keyboard system was acknowledged to be the best one in four categories:
Computer and Information Technology
TV and Home Entertainment
Smart Product (in TV and Home Entertainment category)
Innovative Product (in Computer and Information Technology category)
"Receiving the Red Dot Award and, in addition, in four categories at once is an important moment for the development of the Prestigio brand. Not every company can boast of such. This is the best confirmation of professionalism and product quality assessment on a global level. It is important to note that receiving such a prestigious award is not only an occasion for well-deserved pride, but also a great responsibility. This is an incentive for further development and market launch of new, high-quality and unique products," said, Sergey Kostevich, CEO, ASBIS.
"The winners of the Red Dot Award have proved that they have created excellent products worthy of winning an award. The products won over the jury not only through their aesthetic, but also thanks to their incomparable functionality. With their designs, the award winners are setting new standards in their industry. I wish to congratulate them most sincerely on their success," said Professor Dr. Peter Zec, founder and CEO, Red Dot.
Click&Touch combines the features of a keyboard, touchpad and mouse, enabling automatic and seamless transition from the text input mode to the cursor control mode. Keyboard system is equipped with a "smart selection" function and can "understand" the mode in which end user is working, automatically switching either to the keyboard or to the touchpad functionality.
Touchpad keyboard Prestigio Click&Touch, implementing the Touch on Keys technology by Clevetura, is a perfect combination of utility and appealing form. It is a technologically advanced and visually compelling product, one that can make operating smart TV, desktop, interactive panel, game console, tablet PC and even mobile device as simple as possible. Click&Touch keyboard allows the simultaneous connection of up to five different devices via bluetooth, Type-C and USB interfaces with no need to install additional software. Keyboard features are configured and controlled through the Clevetura App available on Google Play and on the App Store.