International brand of solutions for business and education Prestigio Solutions announces the launch of a new category of products for video conferencing and online communications. The company's portfolio is now wide enough to create modern high-tech meeting rooms and classrooms that can satisfy the needs of any customer.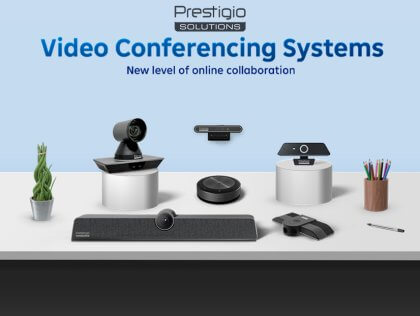 At launch, there are five devices in the category: speakerphones (Speakerphone Alpha (PVCSN0M601)), conference cameras for small, medium, and large meeting rooms (13MP UHD Camera (PVCCU13M201), Collaboration Bar Alpha (PVCCU12M601), and 4K PTZ Camera (PVCCU8N001)), and webcams for personal use (Windows Hello Camera (PVCCF2M202)).
The developers have focused on sound and image quality, ease of connection and use, and avoiding unnecessary wires in the room.
For example, the Prestigio Solutions Speakerphone Alpha (PVCSN0M601) can be connected to any device via Bluetooth, has a wireless charging function, and can operate for up to 8 hours without recharging. Its array of 6 built-in microphones can pick up voices from up to 5 m away in any direction, enabling users to hold conferences with many participants without sacrificing sound quality.
All meeting room cameras have 4K UHD resolution, providing unsurpassed image quality and maximum realism.
The Collaboration Bar Alpha (PVCCU12M601) from Prestigio Solutions is a 4K Plug & Play camera, 6 built-in microphones, and a powerful speaker in one device. The UHD camera with people tracking and 5x digital zoom keeps track of active negotiators and follows the optimal shooting plan.
The flagship videoconferencing device of Prestigio Solutions is the 4K PTZ Camera (PVCCU8N001) with Pan-Tilt-Zoom, 192x zoom, and professional-quality 4K 60fps footage. Thanks to its Power-over-Ethernet support, it can be placed anywhere, such as on the wall, with no need for direct access to a power outlet.
Devices for personal use are represented by the Windows Hello Camera (PVCCF2M202) with biometric authentication via the Windows Hello function for those who need additional access protection.
All models are available for order now. In addition, in 2022, interesting new models will be added to the Prestigio Solutions line of video conferencing solutions, including smart devices with AI. All products will be in the mid-price segment, which makes modern technologies affordable.