A massive ransomware campaign appears to have infected a number of organisations around the world, BBC has reported.
Computers in thousands of locations have apparently been locked by a program that demands $300 (£230) in Bitcoin, according to the report.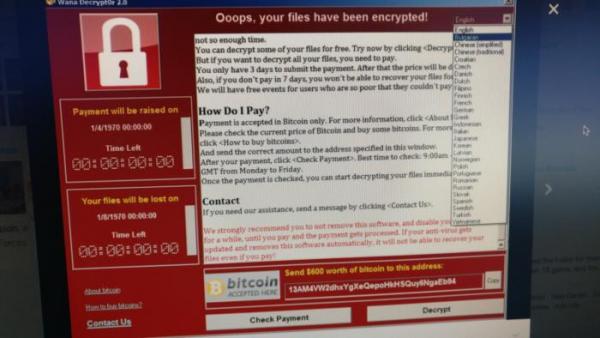 There have been reports of infections in more than 70 countries, including the UK, US, China, Russia, Spain, Italy and Taiwan.
Many security researchers are linking the incidents together.
The UK's National Health Service (NHS) was also hit by a ransomware outbreak on the same day and screenshots of the WannaCry program were shared by NHS staff, according to the BBC report.
One cyber-security researcher tweeted that he had detected many thousands of cases of the ransomware – known as WannaCry and variants of that name – around the world.
"This is huge," Jakub Kroustek at Avast told BBC.
Another, at cyber-security firm Kaspersky, said that the ransomware had been spotted cropping up in 74 countries and that the number was still growing.
There were a number of reports that Russia had seen more infections than any other single country.
Several experts monitoring the situation have linked the infections to vulnerabilities released by a group known as The Shadow Brokers, which recently claimed to have dumped hacking tools stolen from the US National Security Agency (NSA).
A patch for the vulnerability was released by Microsoft in March, but many systems may not have had the update installed.
Some security researchers have pointed out that the infections seem to be deployed via a worm – a program that spreads by itself between computers.
A number of Spanish firms were among the apparent victims elsewhere in Europe, says the BBC report.
Telecoms giant Telefonica said in a statement that it was aware of a "cybersecurity incident" but that clients and services had not been affected.
Power firm Iberdrola and utility provider Gas Natural were also reported to have suffered from the outbreak.
There were reports that staff at the firms were told to turn off their computers.
At least one local authority in Sweden also appears to have been a victim.
"We have around 70 computers that have had a dangerous code installed," the mayor of Timra, a town to the north of Stockholm, told the Reuters news agency.