Wellx, the pioneering health and wellness-focused InsurTech platform that launched in 2022, has announced the successful completion of a $2 million seed funding round.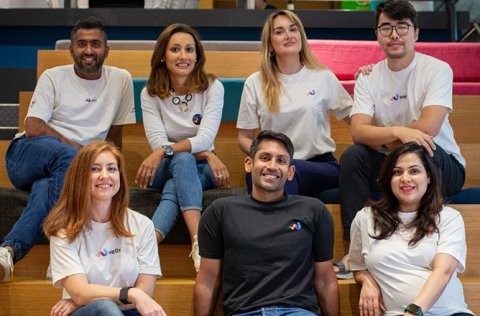 The investment will enable the UAE start-up to catalyse regional growth, drive technological innovation and realise Wellx's mission to create healthier, happier, and more resilient communities.
This seed round of funding, led by Dubai Future District Fund (DFDF), also saw participation from a diverse group of investors including MENA-focussed DASH Ventures, KSA based 500 Global / Sanabil Investments, Plus VC, alongside international VC's including Aditum Investments (Luxembourg), Loyal VC (Toronto) and Plug and Play Ventures (Silicon Valley).
The round was also supported by notable Angel Investors, with significant experience in this sector and geography. The investment from well-established investment institutions further solidifies the confidence in Wellx's strategic position as a trailblazer, industry leader, and frontrunner in the digital insurance sector.
Co-created by Vaibhav Kashyap, Javed Akberali and Dr. Anushka Patchava, Wellx brings embedded behavioural science and gamification direct to the consumer, and through personalised rewards, empowers and incentivises long-lasting sustainable habit formation, driving healthier lifestyles for its users.
This $2 million seed funding secured, at a time where technology funding has been declining since the COVID-19 pandemic boom, will play a pivotal role in fuelling Wellx's growth trajectory, permitting it to continue to orchestrate innovation in new technologies. By investing in intuitive design, and emerging tech including AI coaching, Wellx will strengthen its customer-centric approach, disrupting the insurance industry and providing seamless, personalized insurance experiences that deliver exceptional value to its customers.
"We are thrilled to have the opportunity to work in this sector and through our intense focus on customer-centric design, change the way customers experience insurance – from a grudge to a great purchase! This funding empowers us to accelerate our growth plans and expand our customer base across the region." remarked Vaibhav Kashyap, Co-Founder and CEO of Wellx.
"This $2 million investment will reinvigorate our brand as we continue work towards spearheading the adoption of healthier habits in alignment with the UAE's National Strategy for Wellbeing 2031. We are fully charged to take on the market, and excited to expand our product lines and services" said Javed Akberali, Co-Founder and Managing Director of Wellx.
The funding infusion will propel Wellx's ambitious expansion plans, which include attracting global talent into the region;
"With this significant seed funding, we can accelerate the development of new functionality, and innovative experiences for our customers and to do so we need to bring on board great people, with greater capabilities to do even greater things' said Dr. Anushka Patchava, Co-Founder and Chief Product Officer. "The investment will fuel our relentless pursuit of making healthy fun and health hassle-free."
To learn more about a new insurance journey that doesn't focus purely on insurance, but also wellness and healthy lifestyle, visit: https://wellx.ai/